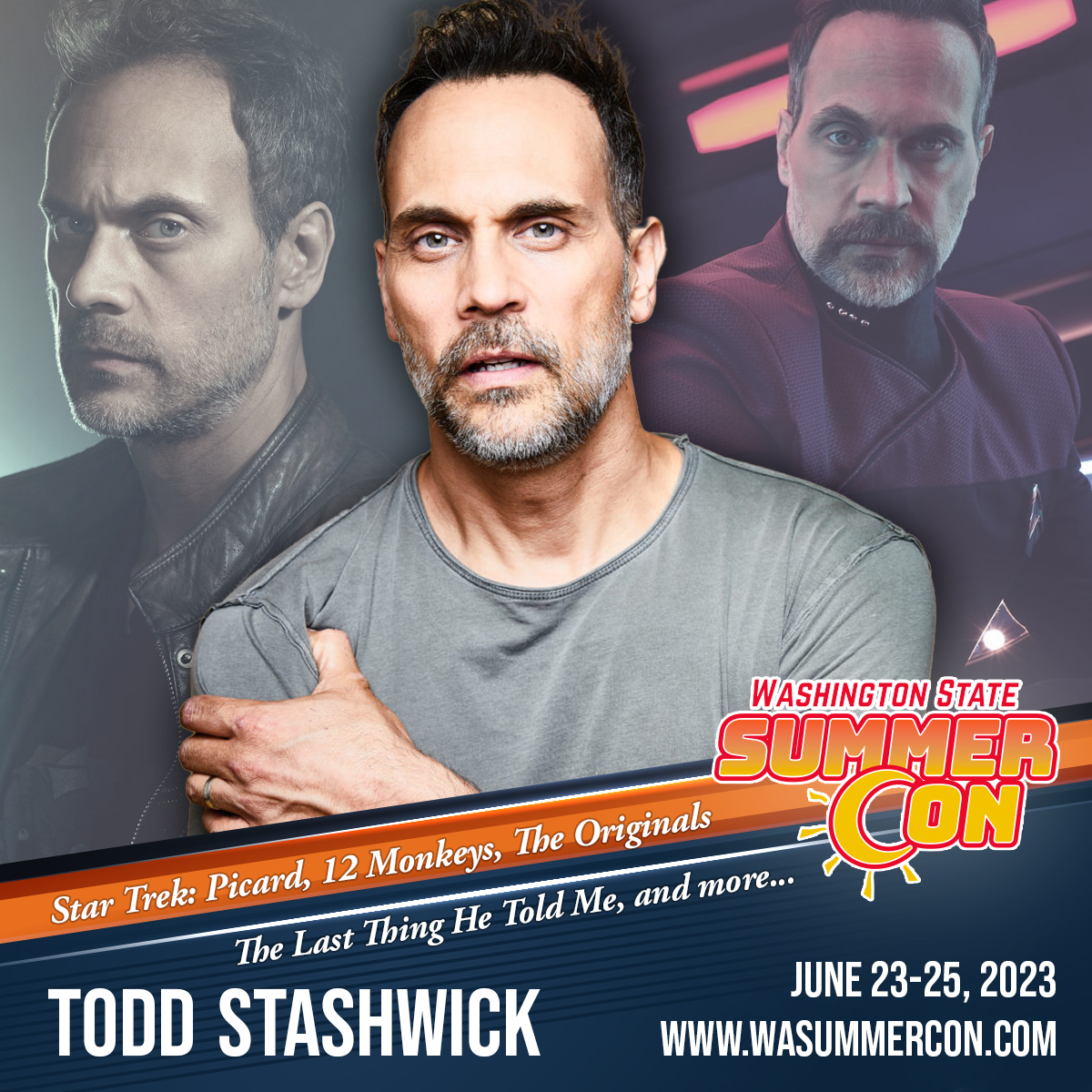 Individual Pro Photos – $70
Picard Duo (Stashwick/Matalas) – $120
All Trek Cast – $320
Standard Autographs – $60
(Autographs can be purchased at their table)
Selfies – TBD
Combo – TBD
(selfies and autograph)
To celebrate today's conclusion of Star Trek: Picard, we are excited to announce the Captain of the USS Titan-A, Liam Shaw, is joining the Washington State Summer Con lineup in June. Please welcome actor and comic book writer Todd Stashwick as our fourth Star Trek guest at the show!
After reading Todd's own words… "Since long before I joined the Starfleet, was biting necks, terrorizing Gotham, or fighting time-traveling monkeys on TV, I have been an action-figure-collecting, comic-book-reading, dice-rolling, video-game-playing, Scifi-fantasy-loving, Tiki-drinking, Con-going, nerdboy." we knew that he would be a perfect fit for the Summer Con lineup.
Todd is currently known for portraying Federation Starfleet Captain Liam Shaw in the third season of Star Trek: Picard. His performance was blunt, outspoken, memorable, and heroic.
Early in his acting career, Todd was part of The Second City improv tour with fellow Summer Con alumni, David Koechner. He was a series regular on the TV adaptation of 12 Monkeys who landed the role of Dr. Drakken in the live-action adaptation of Kim Possible. He has had recurring roles in The Originals, Teen Wolf, and a significant part in The Riches.
He is also the writer and co-creator of the online action/horror web-comic 'Devil Inside'. He publishes a new free episode weekly on his website. The comic has brought him to comic book conventions nationwide with his collaborator, comic book artist Dennis Calero.