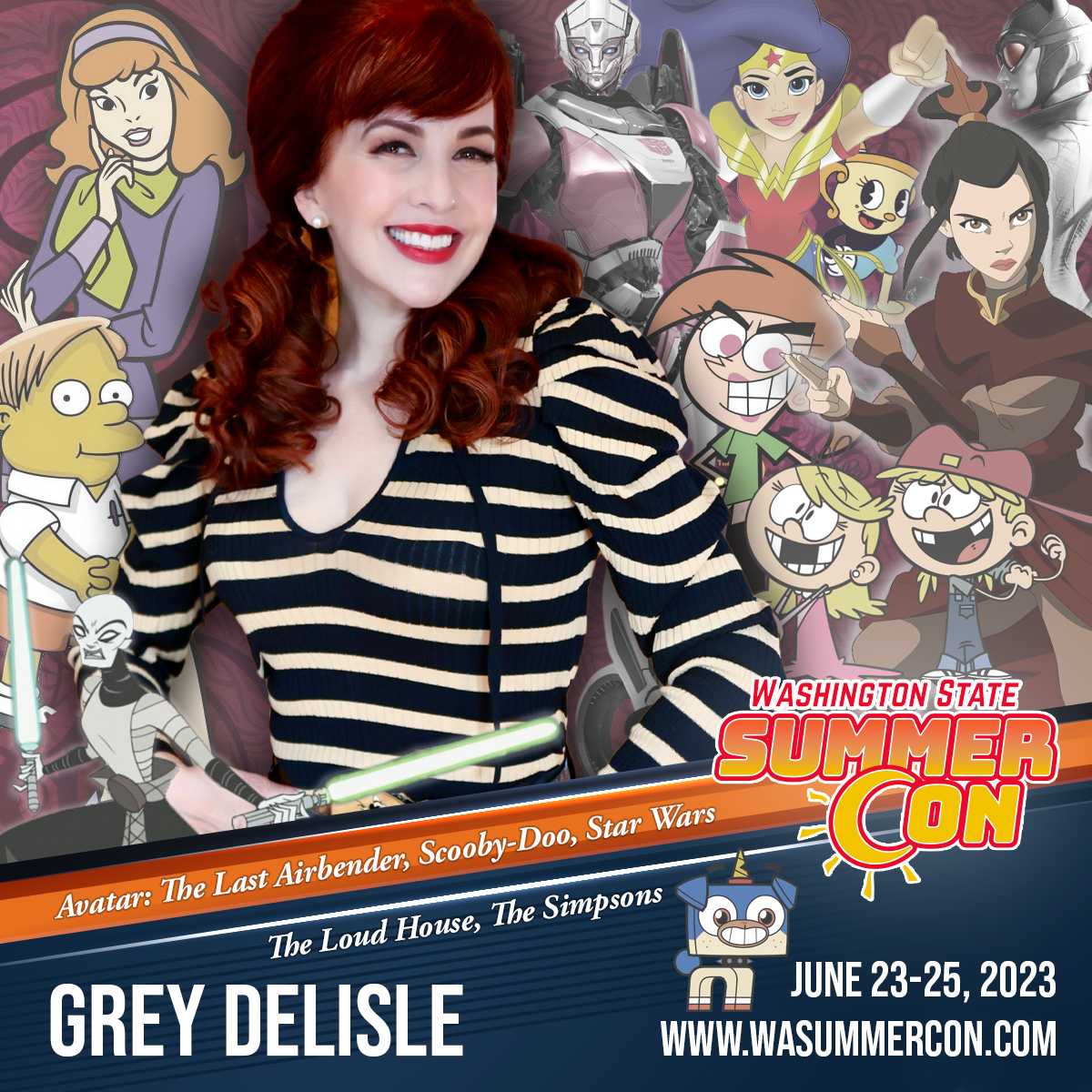 Pro Photos – $60
Duo Photos (DeLisle/ Hack) – $90
Trio Photos (Basco/ Baldwin/ DeLisle) – $150
Entire Cast Photo (Eisen/ Basco/ Flower/ De Sena/ DeLisle/ Baldwin/ Hack/ Kwan) – $350
Standard Autographs – $50
(Purchased at the Show)
Selfies – TBD
Combo – TBD
(selfies and autograph)
We are thrilled to add one of the most prolific voice actresses to the Washington State Summer Con lineup this year. Grey DeLisle is an award-winning talent who has amassed over 1700 acting credits in animation, film, anime, and video games. Grey is also a Grammy-winning singer, songwriter, and stand-up comedian.
Grey LeLisle has been the voice behind Daphne Blake on Scooby-Doo since 1997. She has also starred in hundreds of famous cartoons, including The Fairly Odd Parents (Vicky), Avatar: The Last Airbender (Azula), Clone Wars (Assaj Ventress / Amidala), The Simpsons (Martin Prince), Loud House (Lola, Lana, Lily Loud), Unikitty! (Puppycorn), Sanjay and Craig (Darlene), Teen Titans & DC Super Hero Girls (Wonder Woman), The Cuphead Show! (Chalice), The Legend of Vox Mahina (Delilah Briarwood), He-Man and the Masters of the Universe (Evil-Lyn), Invincible (Olga), Grim Adventures of Billy and Mandy (Mandy), Danny Phantom (Sam), Foster's Home for Imaginary Friends (Frankie, Dutchess, and Goo), Spider-Man (Black Cat / Felicia Hardy) Batman (Black Canary), Green Lantern (Aya), Hi Hi Puffy AmiYumi (Yumi). Xiaolin Showdown (Kimiko), Wow Wow Wubbzy (Wubbzy), and Clifford the Big Red Dog (Emily Elizabeth), to name a few.
Some of Grey's notable film roles include The Book of Life (Grandma Sanchez), Transformers: Revenge of the Fallen and Bumblebee (Arcee), and When Marnie Was There (Setsu Oiwa).
She has performed numerous roles in Star Wars animation and video game properties, including Clone Wars, The Bad Batch, Rebels, Resistance, Battlefront II, and KotOR. Some of her video game titles that she has performed include:: numerous Batman games as Catwoman/Selina Kyle, Far Cry 3, Bayonetta (Jeanne), DOOM, Mass Effect, and so much more!