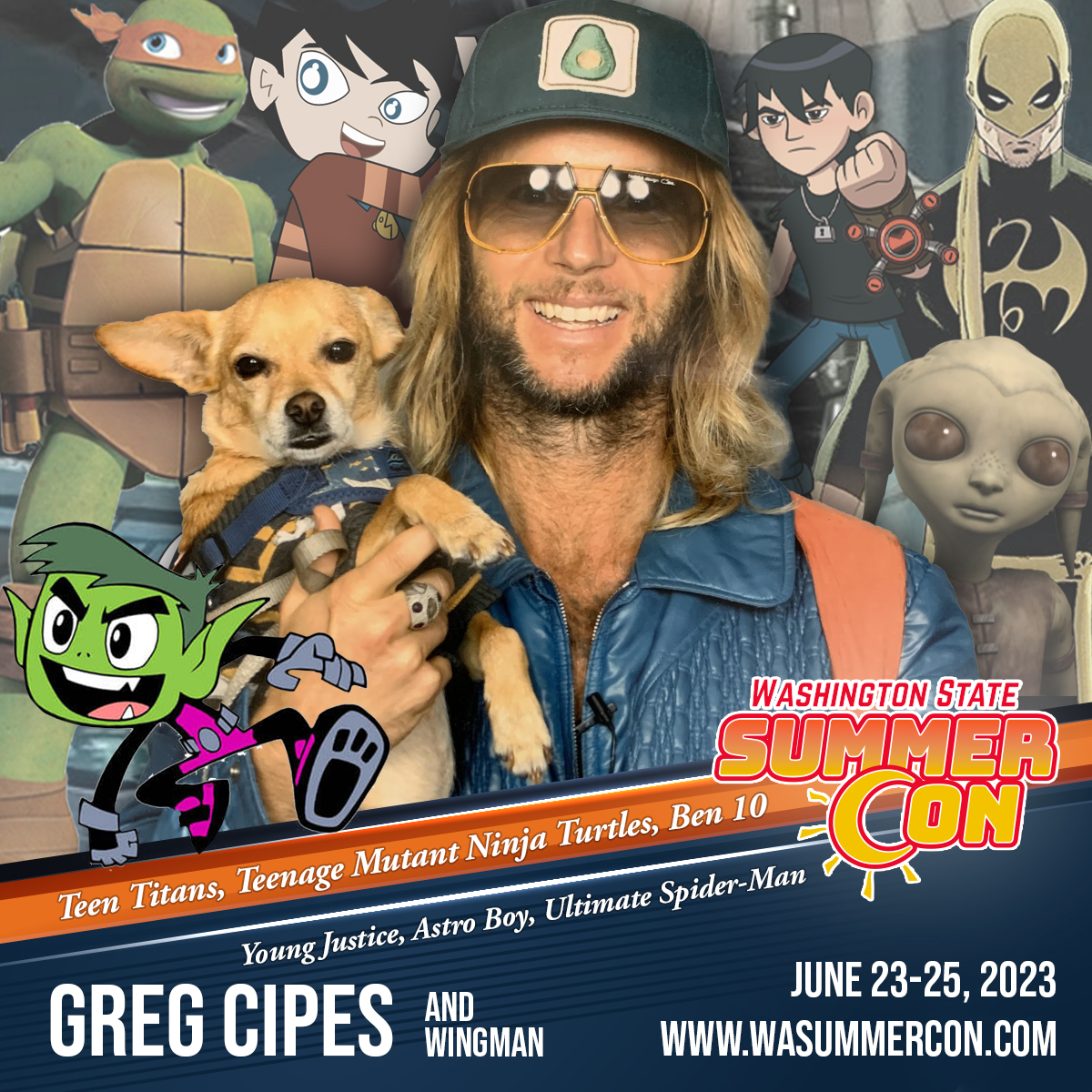 Pro Photos – $50
Titans Duo – $90
Standard Autographs – $40
(Autographs can be purchased at their table)
Selfies – $30
Voice Recordings – $50
Combo – $60
(selfies and autograph)
Welcome back Beast Boy and Michelangelo to the Washington State Summer Con from June 23rd through the 25th. We are excited to host the very talented Greg Cipes in a full Summer Con lineup. He is a voice actor, on-screen actor, musician, and surfer, just a few titles used to describe this talented and awesome guest. Yes, he will have Wingman by his side again.
Greg is best known for his supporting role as Dwight in Fast & Furious and his voice acting as Michelangelo in Teenage Mutant Ninja Turtles from 2012 to 2017 and Beast Boy in Teen Titans Go! since 2013. He has spent the last 11 years providing his voice talents for Ben 10 as Kevin Levin and many other characters.
Greg has starred in over 30 feature films, including Fast & Furious, Teen Titans Go! To the Movies, Vile, John Tucker Must Die, Simon Says, Pledge This!, The Onion Movie, Club Dread. He has performed the voice of Beast Boy in all of the DC Super Hero Girls and LEGO movies.
His television appearances include Ghost Whisperer, Cold Case, Gilmore Girls, Raines, House, Bones, Without a Trace, Samantha Who?. He has had recurring and regular series television roles on The Middle, Deadwood, One on One, True Blood and Twentyfourseven, Roseanne's Nuts, CSI: Miami, General Hospital & Anger Management.
Greg's voice acting has included Michelangelo in Nickelodeon's Teenage Mutant Ninja Turtles, Beast Boy in Teen Titans Go!, Kevin Levin in Ben 10: Alien Force, Danny Rand/Iron Fist in Ultimate Spider-Man, Atlas in Astro Boy, the unforgettable lion cub, Ryan in The Wild and recurring roles in Star Wars: The Clone Wars as Zatt the youngling, and Fish Hooks and Kick Buttowski: Suburban Daredevil.
Greg has also provided the voices for dozens of video games, including the Ben 10, Teen Titans, and Teenage Mutant Ninja Turtle franchises.