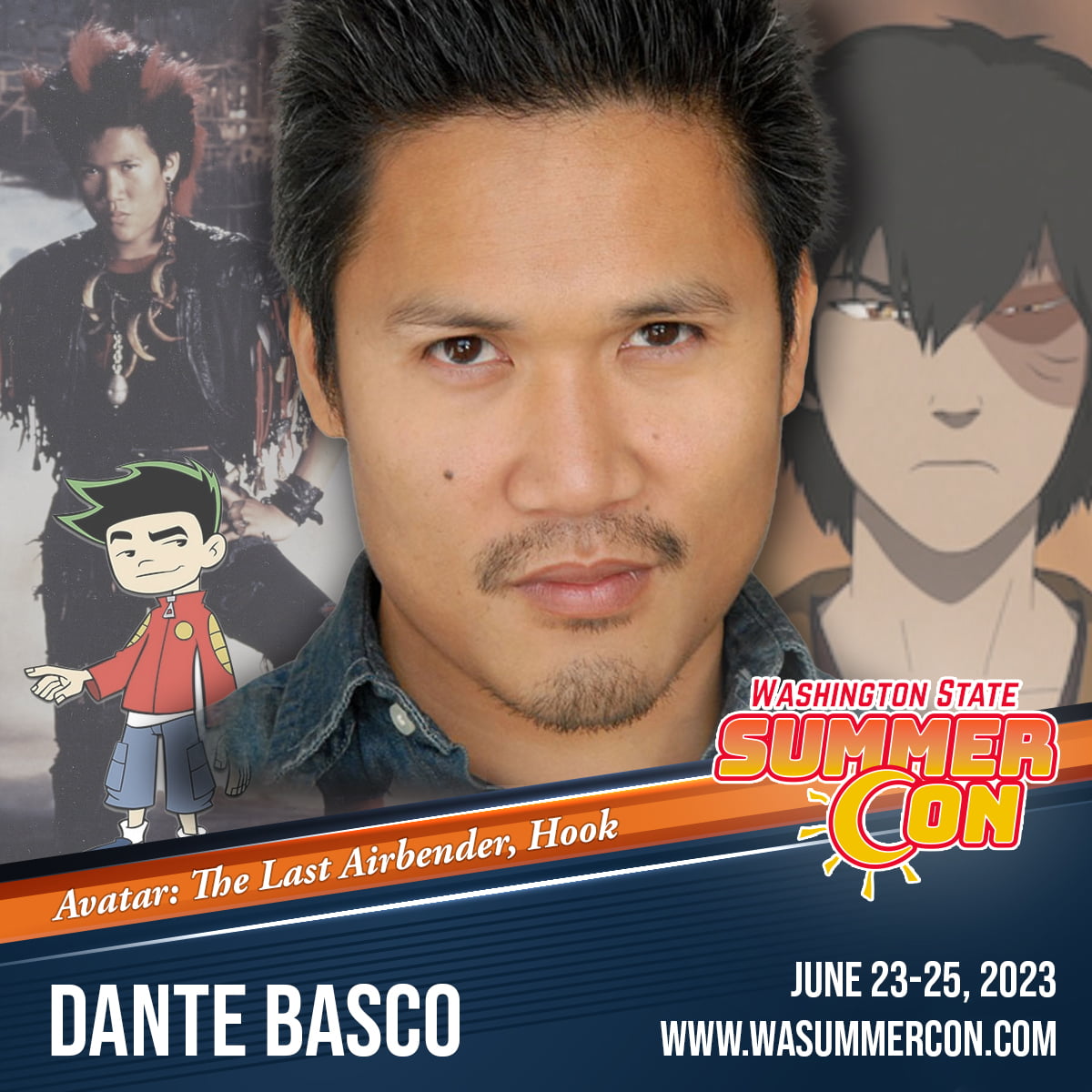 Pro Photos – $60
Duo Photos (Eisen/ Basco) – $110
Duo Photos (Basco/ Baldwin) – $110
Trio Photos (Basco/ Baldwin/ DeLisle) – $150
Quad Photos (Eisen/ Basco/ Flower/ De Sena) – $190
Entire Cast Photo (Eisen/ Basco/ Flower/ De Sena/ DeLisle/ Baldwin/ Hack/ Kwan) – $350
Standard Autographs – $60
Selfies – $50
Voice Recording – $60
Combo – $100
(selfies and autograph)
Anime fans, get ready. We are excited to welcome Dante Basco to the Washington State Summer Con lineup. Dante R. Basco is an American film, television and voice actor with a career spanning almost three decades. Dante first rose to acclaim as Rufio, leader of the Lost Boys in "Hook," then took the animation world by storm as the voice of Prince Zuko in Avatar: The Last Airbender! and American Dragon: Jake Long.
As a voice actor, Dante has also performed as General Iroh II, Zuko's grandson, in The Legend of Korra, Shingo in EA's Skate, Fukushima in Kim Possible, Kwok Wong in the Proud Family, Jingmei in The Boondocks, Kenny Rodgers in Firebreather, Tuck in Generator Rex, Scorpion in Ultimate Spider-Man, Jai Kell in Star Wars Rebels, Cheddar in We Bare Bears Javier in Victor and Valentino, and Spin Kick from Carmen Sandiego. He has provided his voice in video games Avatar series, Call of Juarez: Bound in Blood, Mortal Kombat X, Final Fantasy XIII, the Skate series, and Aion: Tower of Eternity.
On-screen, Dante found success with appearances on The Fresh Prince of Bel-Air, recurring appearances on Hangin' with Mr. Cooper, and Moesha in the '90s. He would later appear on Nash Bridges, Touched by an Angel, and Providence in the early 2000s and hit shows today like CSI: Miami, Entourage, and Hawaii Five-0.