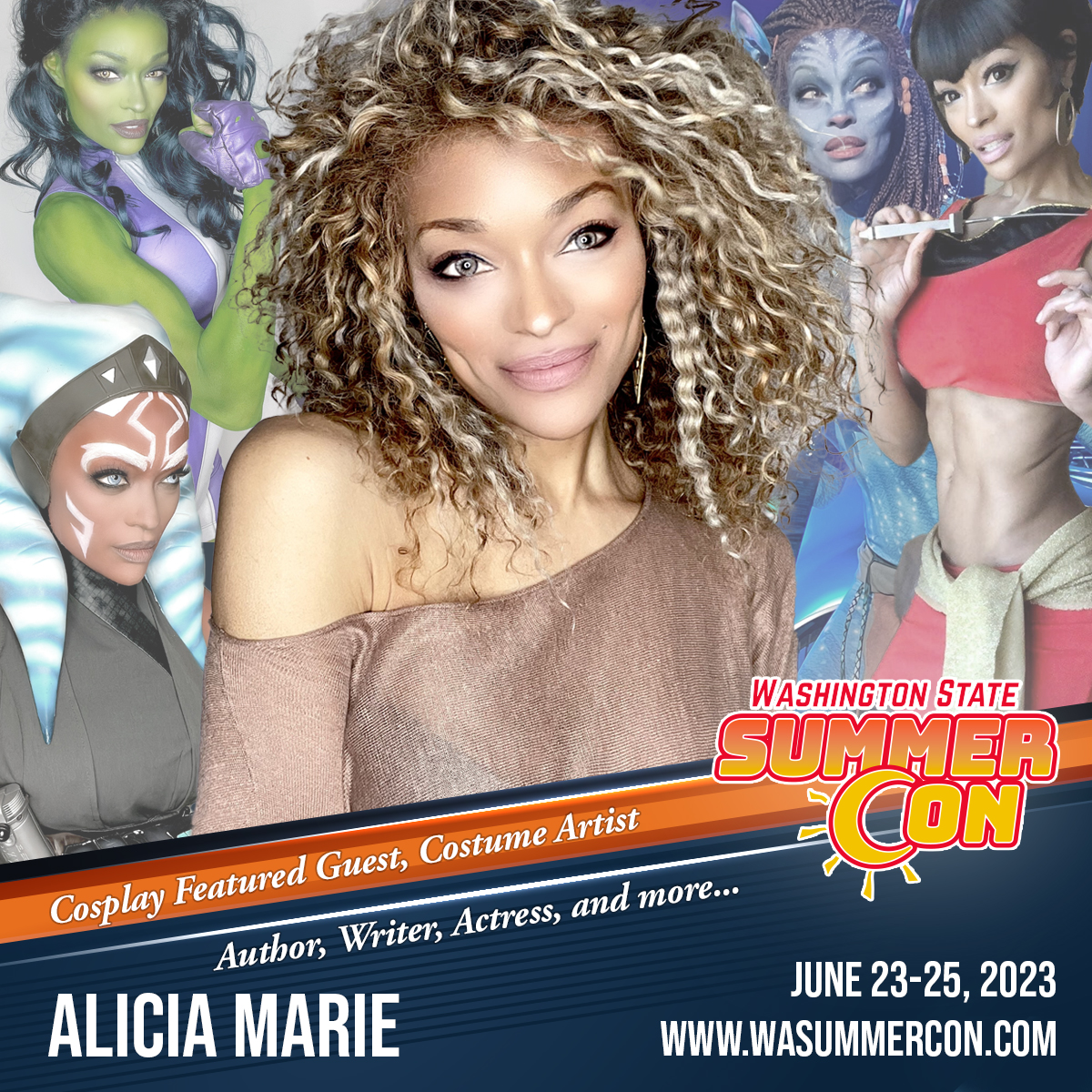 We are bringing another amazing Costume and Performing Artist to the Washington State Summer Con. She has nearly as many titles to describe her career and resumes as she does costumes. Please welcome the multi-talented Alicia Marie to Puyallup from June 23rd through the 25th.
Alicia is a professional costume artist who turned her love of super-physiques, comic books, video games, and anime art into a creative career. She is a self-professed "compulsive maker" who creates costumes and character looks for media companies like NBC, Warner Brothers; gaming and interactive studios such as Netherrealm (Mortal Kombat), Riot and 2k Games; and for celebrities such as platinum recording artist Megan Thee Stallion, Academy Award winner Jamie Lee Curtis and WWE world champions Ronda Rousey and Thea Trinidad.
Alicia started her career as a professional Figure and Bikini Competitor, Fitness Model, and Television personality. She has won many fitness and bodybuilding titles and has been recognized as a leading health and wellness teacher. She is the physical inspiration for some female fighting characters in popular video games today. In 2020, she was introduced as a playable character in Sony Interactive's new Predator game PREDATOR: Hunting Grounds.
Alicia, who refers to herself as a "cyborg" following bilateral cochlear surgery, is an avid advocate for the deaf and hard of hearing. She is a television and fitness expert, and in 2012, she took that experience and co-authored "The Booty Bible" to add an author title to her resume. When she isn't designing a new costume – you can find Alicia playing Dungeons & Dragons or other TTRPGs live or working out at the gym inspired by the characters she loves to cosplay!
Alicia is on IG, Twitter and Tik Tok at
@AliciaMarieBODY
and on Facebook at Alicia Marie LIVE. You can also find her at the Washington State Summer Con from June 23rd through the 25th, meeting fans, signing photos and wearing some amazing cosplay.