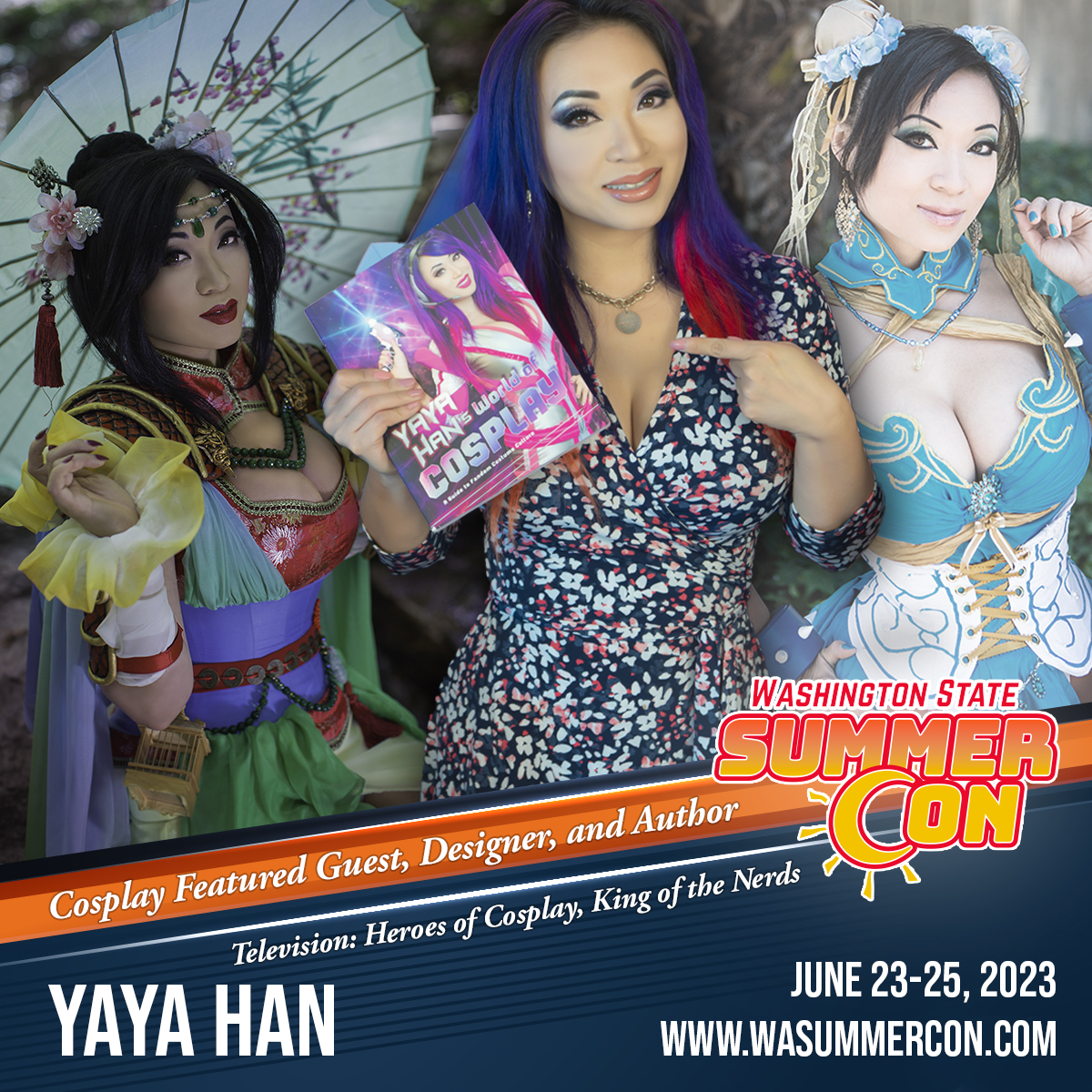 We are thrilled to announce a Cosplay Superstar to our lineup at the Washington State Summer Con from June 23rd through the 25th. Please welcome the incomparable Yaya Han to Puyallup this summer. Yaya has helped cosplay gain respect and integrity as an art form in the fandom world and art communities, and her decades-long campaign for creativity has helped raise cosplay to the standards we know today.
Yaya Han is a cosplayer, designer, and author with more than 23 years of activity in the fandom world. Yaya has made 450 costumes, been featured in two US Network TV Shows and countless magazines, books, newspapers, and online media outlets, and she appears as a guest and speaker at hundreds of events all over the globe. Over the years, Yaya's work has profoundly impacted cosplay and helped shape it into a commercial industry. Yaya is the first cosplayer to bring branded cosplay-focused sewing and crafting products, such as fabrics and trims, to the mass retail market. She is also the first to chronicle a cosplayer's life story and the evolution of modern cosplay culture in a published book, "Yaya Han's World of Cosplay," – available worldwide.
She discovered cosplay in 1999 when it was still a small, quirky section of the geek-fandom. Armed with a used $40 sewing machine, Yaya threw herself into making costumes headfirst and quickly absorbed the heart and soul of costume design and creation. To this day, Yaya has made 450 personal costumes in every fandom genre imaginable and her original designs. Her long-standing consistency in creating intricate and lavish costumes has made her a craftsmanship Icon and beloved competition judge in the cosplay world, inspiring countless people to get into cosplay.
Yaya Han will be with us on Saturday and Sunday of the show meeting her fans, signing autographs, taking photos, and signing her books.