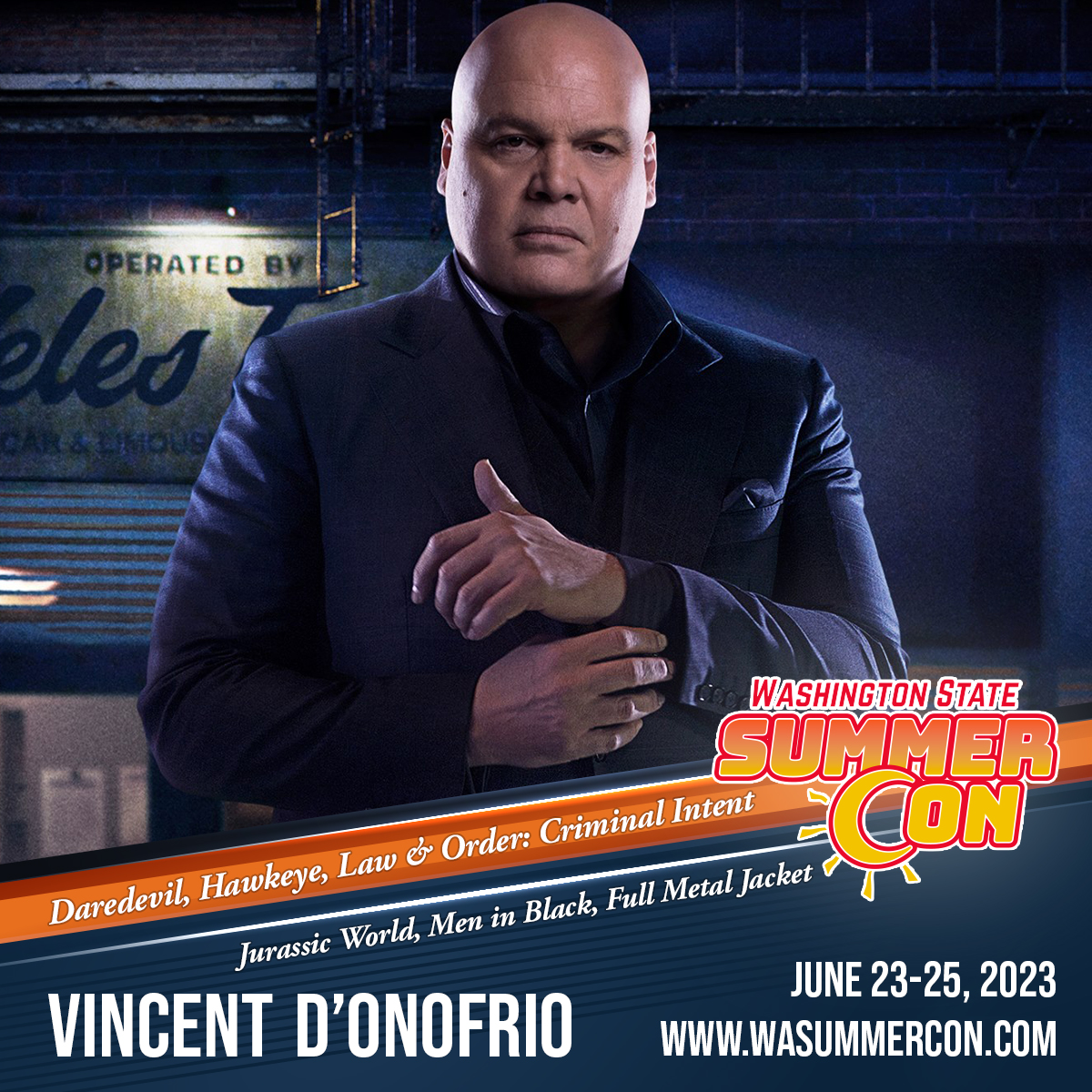 Standard Autographs – $70
(Autographs can be purchased at their table)
Selfies – TBD
Combo – TBD
(selfies and autograph)
It is time to announce the Kingpin to our lineup. Please welcome Vincent D'Onofrio to the Washington State Summer Con from June 23rd through the 25th in Puyallup. We are honored to host an extremely busy man that has firmly established himself as one of the finest actors working in Hollywood.
Vincent D'Onofrio became a household name thanks to his nine-season run as Detective Robert Goren on the long-running Law & Order: Criminal Intent. Vincent portrayed Wilson Fisk/Kingpin in the acclaimed Daredevil series on Netflix for three seasons. He would later reprise his Kingpin roles in the 2021 Disney+ series Hawkeye and the currently filming series Echo and Daredevil: Born Again.
D'Onofrio's breakout role came playing a mentally unstable Marine cadet in the 1987 Kubrick film Full Metal Jacket. In 1997, he brought to life the memorable farmer Edgar and the evil "Bug" that possesses him from the hit movie Men in Black. Vincent also portrayed Victor "Vic" Hoskins in the 2015 blockbuster movie Jurassic World.
His other movie roles include Adventures in Babysitting, Mystic Pizza, JFK, The Player, Ed Wood, The Cell, Escape Plan, The Break-Up, Kill the Irishman, The Judge, American Falls, The Magnificent Seven, and Death Wish.
In addition to the 6-8 current projects Vincent is working on, he continues his role as mob boss Vincent 'The Chin' Gigante to the Godfather of Harlem series.