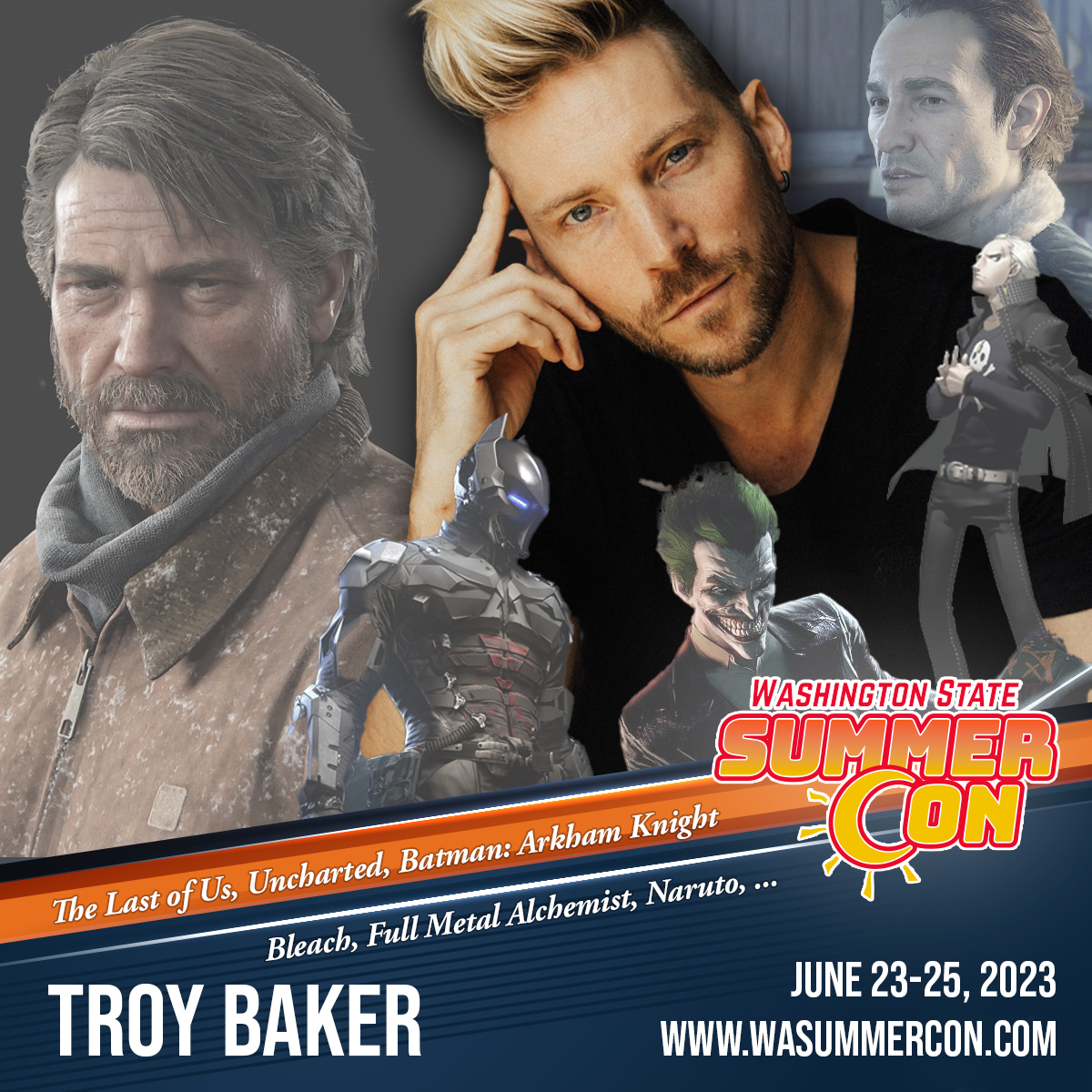 Pro Photos – $60
The Last of Us Duo – $90
Standard Autographs – $60
add a Quote – $20
(Autographs can be purchased at their table)
Recordings – $100
Selfies – $40
Combo – $80
(selfies and autograph)
Please welcome the multi-talented superstar voice actor and musician Troy Baker to the Washington State Summer Con. Troy has hundred of credits voicing famous characters in gaming, anime, and animation. He is best known for his voice and motion capture for Joel Miller in The Last of Us franchise.
Baker's performance in the games was highly praised and received numerous awards and nominations due to the complexity and likability of the character.
Baker is also known for his many video game roles, including Booker DeWitt in BioShock Infinite, Samuel "Sam" Drake in Uncharted 4: A Thief's End and Uncharted: The Lost Legacy, Rhys in Tales from the Borderlands, Snow Villiers in Final Fantasy XIII, Kanji Tatsumi in Persona 4, Higgs Monaghan in Death Stranding, The Joker in Batman: Arkham Origins, Agent Jones in Fortnite, Simon Krieger in Spider-Man: Miles Morales, and Talion in Middle-earth: Shadow of Mordor and Middle-earth: Shadow of War.
He currently holds the record for the most acting nominations at the BAFTA Games Awards, with five between 2013 and 2021.
Baker has also voiced Batman, Joker, Hawkeye, and Loki in various media and has provided voices for several English dubs of anime, including Bleach, One Piece, Fullmetal Alchemist: Brotherhood, Naruto: Shippuden, Code Geass, Catherine Full Body, Trinity Blood, and Soul Eater.
He was previously the lead singer and rhythm guitarist for the alternative rock band Tripp Fontaine. He later released a solo album Sitting in the Fire, before he and his backing band changed their name to Window to the Abbey.