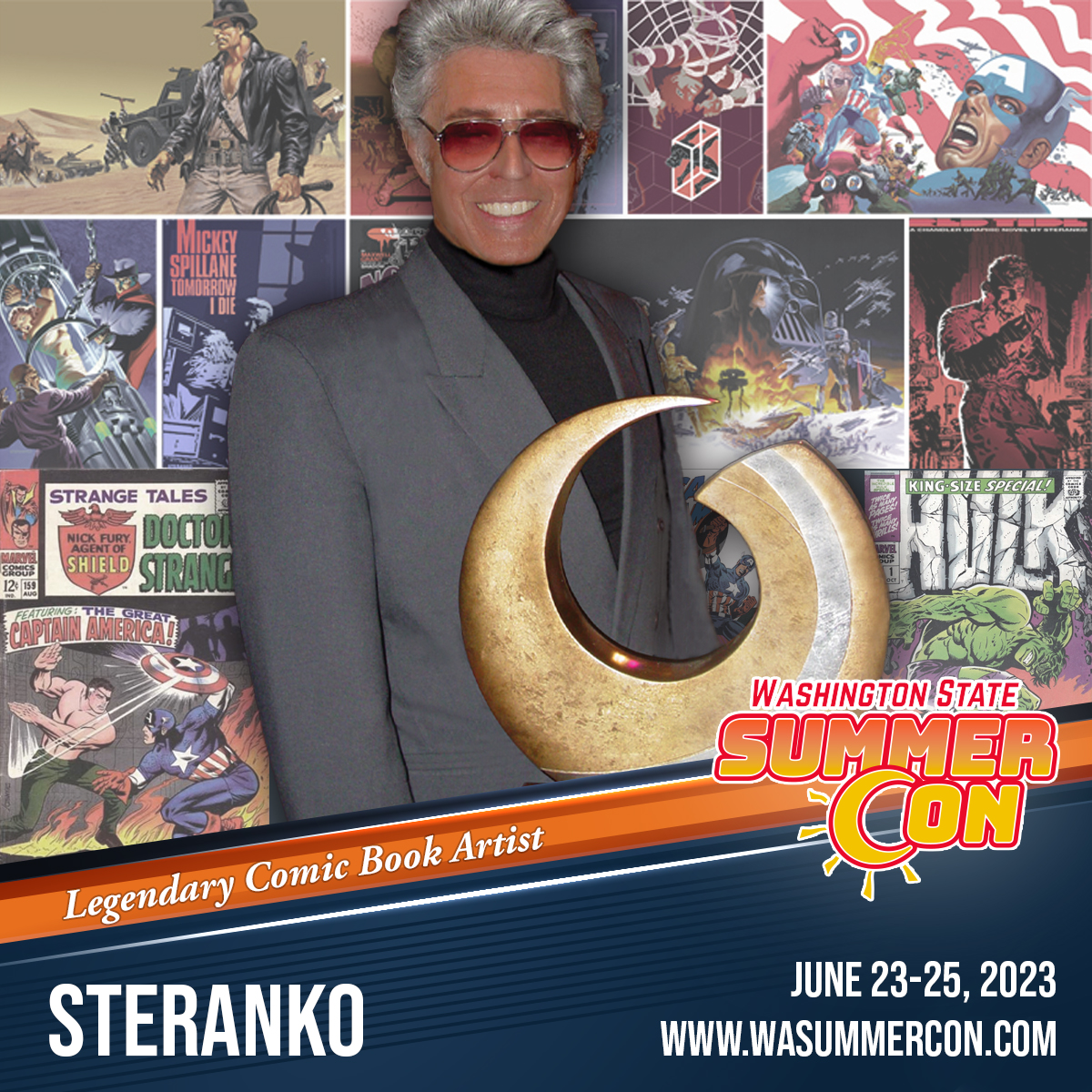 STERANKO at SUMMER CON.
Those four words should pretty much do it for you. Please welcome our good friend and the larger-than-life comic book legend back to the Washington State Summer Con from June 23rd through the 25th.
STERANKO has cut a ferocious path through the entertainment arts, with a dozen successful careers to his credit: author, magician, illustrator, escape artist, historian. He is cited as one of the prime architects of Marvel Comics and the co-creator of NICK FURY, AGENT OF S.H.I.E.L.D. He also wrote and drew CAPTAIN AMERICA, THE HULK, SUPERMAN, and THE X-MEN (for which he designed the classic title logo); generated more than 150 original storytelling devices and techniques that changed the direction of the comics medium; and evolved a devoted cult of followers who have nicknamed him The Innovator. WIZARD magazine credits Steranko as the 5th Most Influential Artist in the history of the form.
He has painted a multitude of movie posters, record albums, and book covers, and in 1975, he created RED TIDE, the First Modern Graphic Novel. As the editor-publisher of the international newsstand entertainment magazine PREVUE, he conducted hundreds of superstar interviews and penned more than three million words over 25 years. He numbers among his friends and associates Harrison Ford and Sean Connery; writers Mickey Spillane, Arthur C. Clarke, and Ray Bradbury; and directors Federico Fellini, John Huston, Steven Spielberg, and Orson Welles.
In addition, for the first time ever in the Pacific Northwest, Jim will offer a special EVENING WITH STERANKO event after the show! Be sure to follow us for more news and information.
He was inducted into the comic-book industry's Will Eisner Comic Book Hall of Fame in 2006.