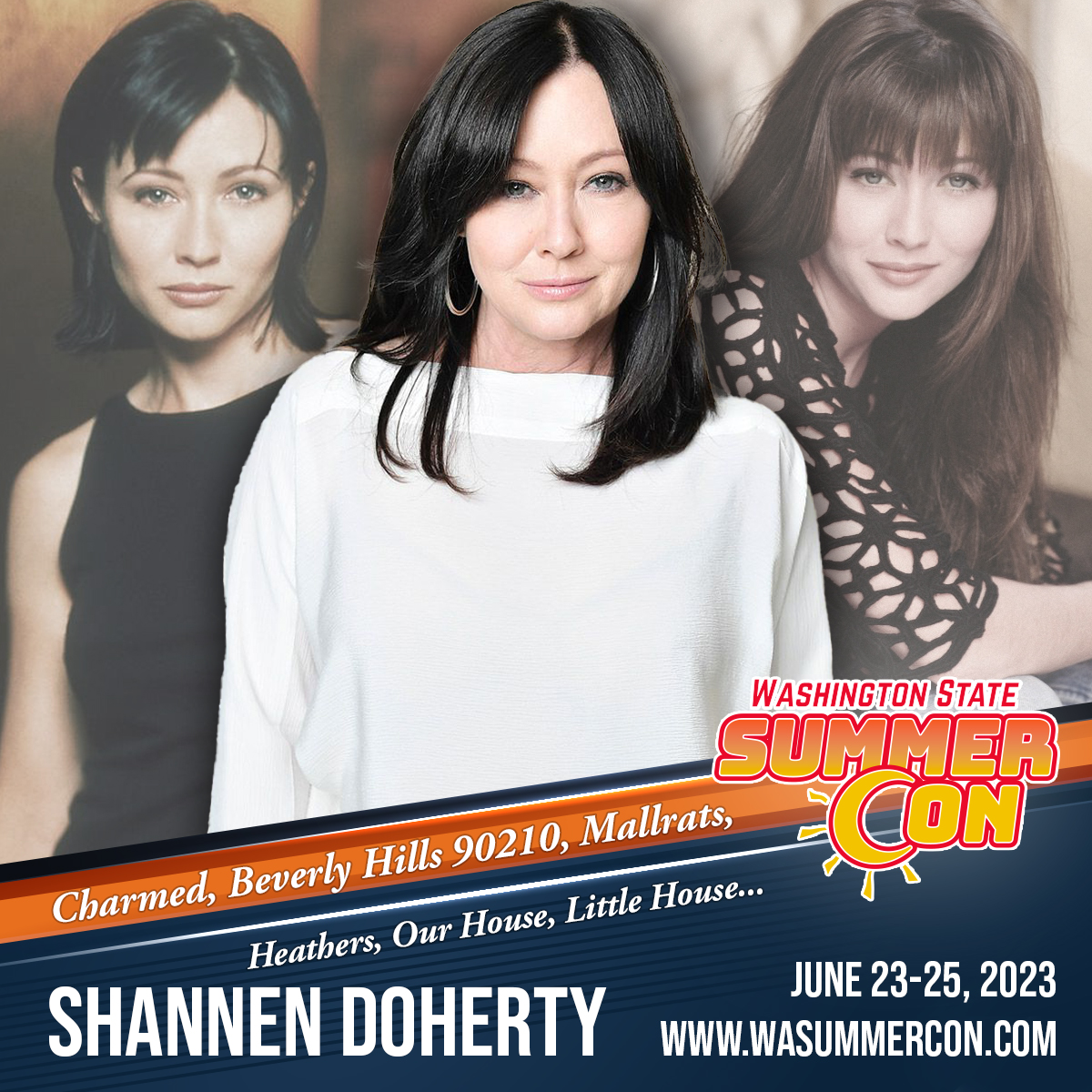 Pro Photos – $70
90210 Photo Ops – $130
(Jason Priestly and Shannen Doherty)
Charmed Trio – $140
(Rose McGowan. Shannen Doherty, and Holly Marie Combs)
Standard Autographs – $60
(Autographs can be purchased at their table)
Selfies – TBD
Combo – TBD
(selfies and autograph)
"The power of three will set you free."
We are excited to announce our third and final guest from Charmed to the Washington State Summer Con. Please welcome one of television's greatest icons of the '90s, Shannen Doherty, to the lineup in Puyallup from June 23rd through the 25th.
Shannen Doherty started her career as a child actress at just 11 years old, starring in Little House on the Prairie as Jenny Wilder. She then appeared in Our House with Deidre Hall and Wilford Brimley. She also starred alongside Sarah Jessica Parker, and Helen Hunt in Girls Just Want to Have Fun and then in Heathers, a teen comedy also starring Winona Ryder.
Her real success came in 1990, at the age of 19, when she was cast in Aaron Spelling's long-running hit series Beverly Hills, 90210 as Brenda Walsh. Shannen continued her work in movies, starring in the thriller Almost Dead and the comedy Mallrats.
During the fall of 1998, she reunited with long-time producer Aaron Spelling when she was cast as Prue Halliwell on Charmed, a show about three ordinary women who happen to be witches. She starred in Charmed for three years and also directed three of her last episodes. She continued her work in movies by starring in Another Day, The Rendering, The Battle of Mary Kay, and View of Terror. In 2003, she hosted season one of Scare Tactics and season two with only eight episodes and then left to pursue other endeavors.
Shannen returned to television on Fox's drama series North Shore. In 2006, she starred in her own reality series, Breaking Up with Shannen Doherty. Doherty and her former Charmed co-star Holly Marie Combs would star in their road-trip reality show, Off the Map with Shannen & Holly, in 2015.