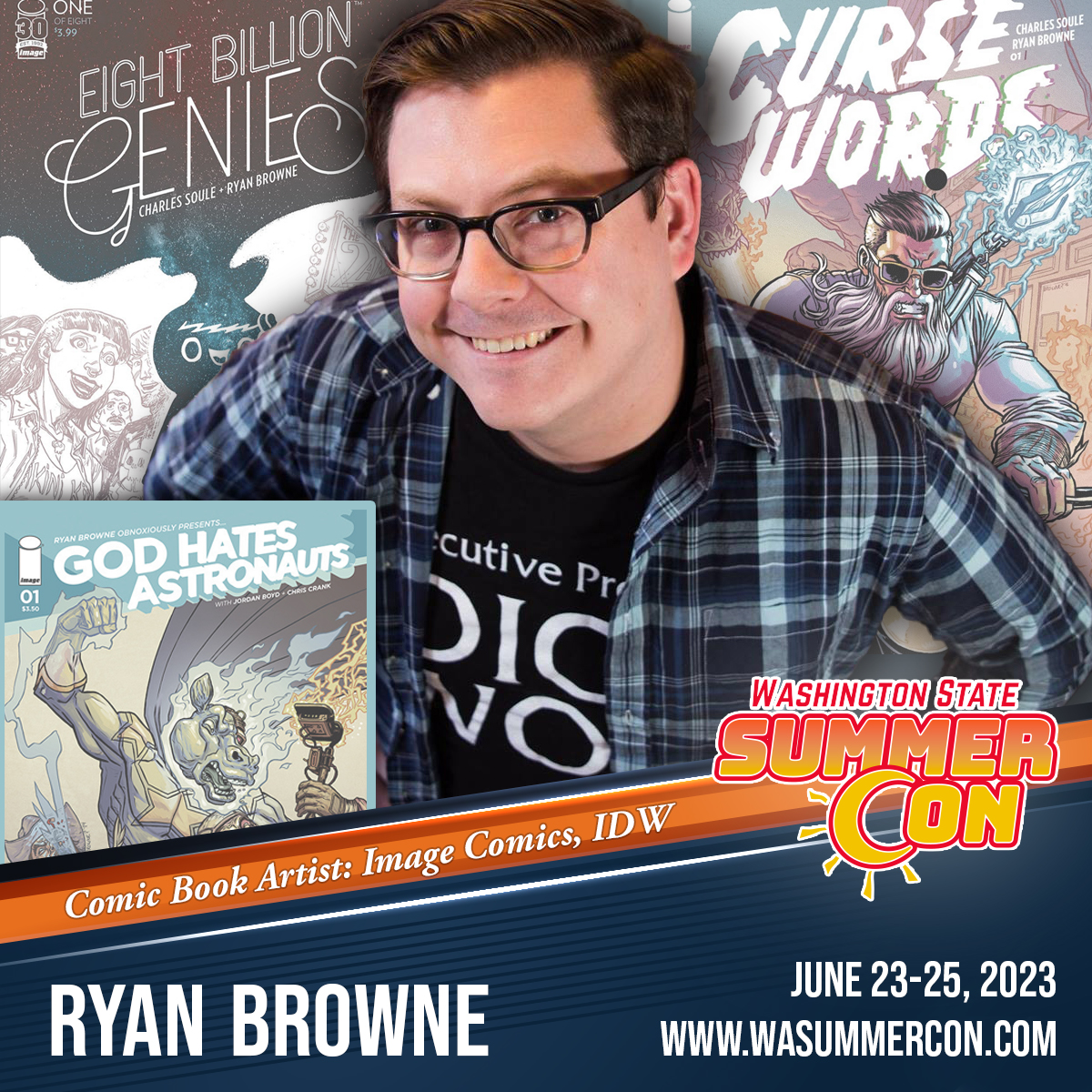 We are happy to bring the very talented artist and author Ryan Browne to the Washington State Summer Con from June 23rd through the 25th. Ryan will join Charles Soule at the show as it will unite the creative team behind the hit series Eight Billion Genies and Curse Words in Puyallup.
Ryan Browne has been involved in creating the art behind a few popular projects lately. One of the most popular, Eight Billion Genies, was recently picked up by Amazon Studios for development. The Eight Billion Genies comic book series asks, If you had one wish… what would you wish for? Now, what if everyone else on the planet had one wish too? At exactly the same moment, everyone on Earth gets a genie and one wish. Eight seconds later, the world has transformed forever…and that's just the beginning.
Charles Soule and Ryan Browne previously teamed up for the bestselling Image Comics series Curse Words. The series lasted over two years, included 25 issues, and culminated with a classic omnibus in June of 2022.
Ryan created the series God Hates Astronauts, a story of superheroes, NASA, farmers, and plenty of humor for all. He created God Hates Astronauts as a 24-hour comic in 2007. In 2010 Browne relaunched it as a free webcomic, and, for the next three years, he updated it sporadically. Via Kickstarter Browne collected all three issues comprising the first story arc, "The Head That Wouldn't Die!" and the original 24-hour comic. After the success of the Kickstarter campaign, Image Comics republished the book as a trade paperback. In September 2014, Image Comics relaunched God Hates Astronauts as a continuing monthly series, beginning with the second story arc, "A Star Is Born."