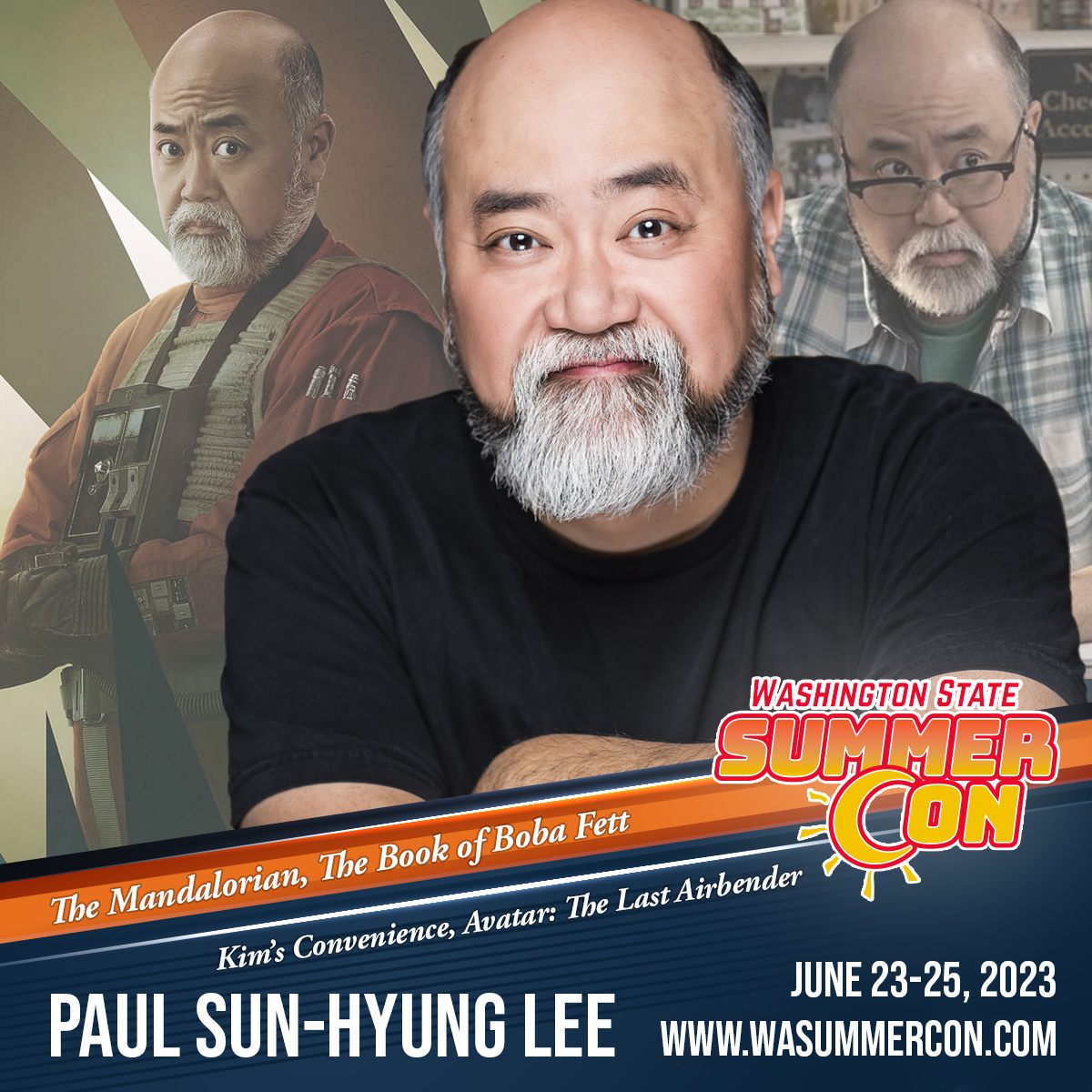 Standard Autographs – $50
Selfies – $30
Combo – $60
(selfies and autograph)
May the 4th wouldn't be complete without an announcement from the Star Wars Universe. Please welcome an actor from the screen and stage, Paul Sun-Hyung Lee, to the Washington State Summer Con. He is best known for his years of acting in the hit sitcom Kim's Convenience but has recently been seen patrolling the outer rim in The Mandalorian.
Paul Sun-Hyung Lee is a three-time Canadian Screen Award winner for Best Actor in a Comedy Series for his performance as family patriarch Appa in Kim's Convenience, which ran for five seasons. Most recently, Lee has appeared in the Star Wars series The Mandalorian and The Book of Boba Fett, playing New Republic Ranger Captain Carson Teva. He has also performed voice work, including Chef Jeff on Abby Hatcher, the Potion Maker on The Bravest Knight, and Spartillian on Bakugan: Geogan Rising. In video games, he voiced Jung Park on Rainbow Six Vegas 1 & 2.
Paul has taken on the role of Uncle Iroh on Netflix's upcoming live-action adaptation of Avatar: The Last Airbender. He is a self-professed nerd, a collector of movies, all things Star Wars, and an avid replica prop builder and cosplayer. Dave Filoni discovered the actor after Filoni's wife Anne began watching Kim's Convenience, a show which Lee was known for. The producer became a fan of the show and chose to write a part for Lee in season two of The Mandalorian.
Lee has won the Canadian Screen Award for Best Actor in a Comedy Series four times for his role as Mr. Kim in Kim's Convenience and has been nominated twice for the Dora Mavor Moore Award for Outstanding Performance by a Male in a Principal Role, Large Theatre, for The Monster Under the Bed in 2010 and the stage version of Kim's Convenience in 2012.