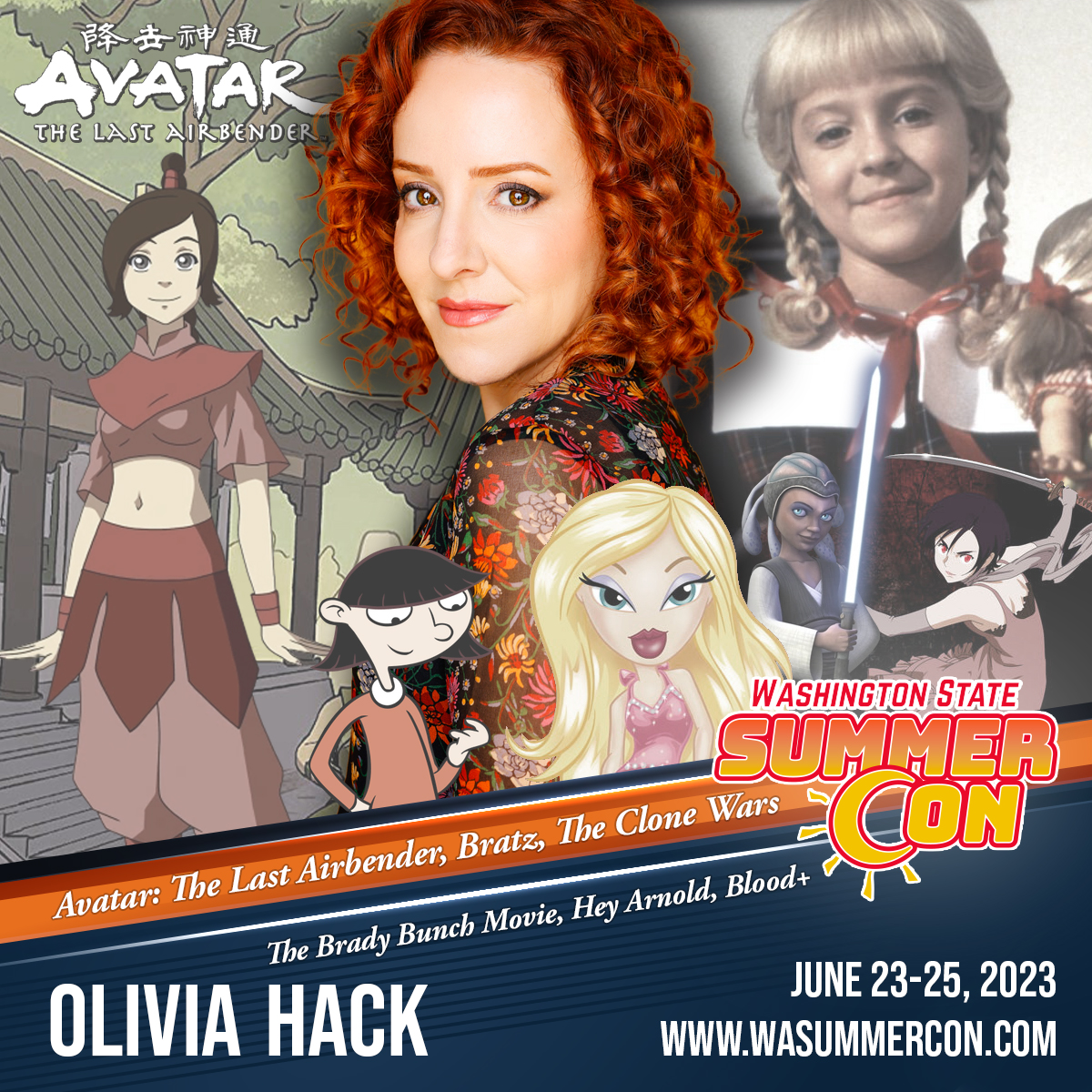 Pro Photos – $60
Duo Photos (DeLisle/ Hack) – $90
Entire Cast Photo (Eisen/ Basco/ Flower/ De Sena/ DeLisle/ Baldwin/ Hack/ Kwan) – $350
Standard Autographs – $50
(Purchased at the Show)
Selfies – TBD
Combo – TBD
(selfies and autograph)
We are excited to add one more cast member of Avatar: The Last Airbender to the Washington State Summer Con lineup from June 23rd through the 25th. Please welcome on-screen and voice actress Olivia Hack to Puyallup this summer.
Olivia is the voice of Ty Lee in the hit animated series Avatar: The Last Airbender. She will join Grey DeLisle, Greg Baldwin, Jessie Flower, and Dante Basco for a huge Avatar reunion at the show.
Olivia got her start as an actress with her role as Captain Picard's daughter in Star Trek: Generations and followed this up by starring as Cindy Brady in the two films based on the 1960s sitcom The Brady Bunch, those being The Brady Bunch Movie and A Very Brady Sequel.
The same year that A Very Brady Sequel was released, Hack would also begin her voice acting career with her role as Rhonda Wellington Lloyd in Nickelodeon's Hey Arnold!, and would subsequently reprise the role in the films Hey Arnold! The Movie and Hey Arnold: The Jungle Movie.
Olivia was cast in The Clone Wars and Star Wars: Forces of Destiny as the voices of Jedi youngling Katooni and Qi'ra, respectively. She has been the voice of Cloe from the Bratz series since 2005 and has been cast in a few Care Bears series.
Her other popular roles include Mao in the English dub of Blood+, Ninny Spangcole in Burn the Witch, alongside various guest appearances in shows like Family Guy, Any Day Now, Freaks and Geeks, and Gilmore Girls, among others. She has performed in many video games, including Persona 5, Final Fantasy, Epic Seven, and the various Avatar games.