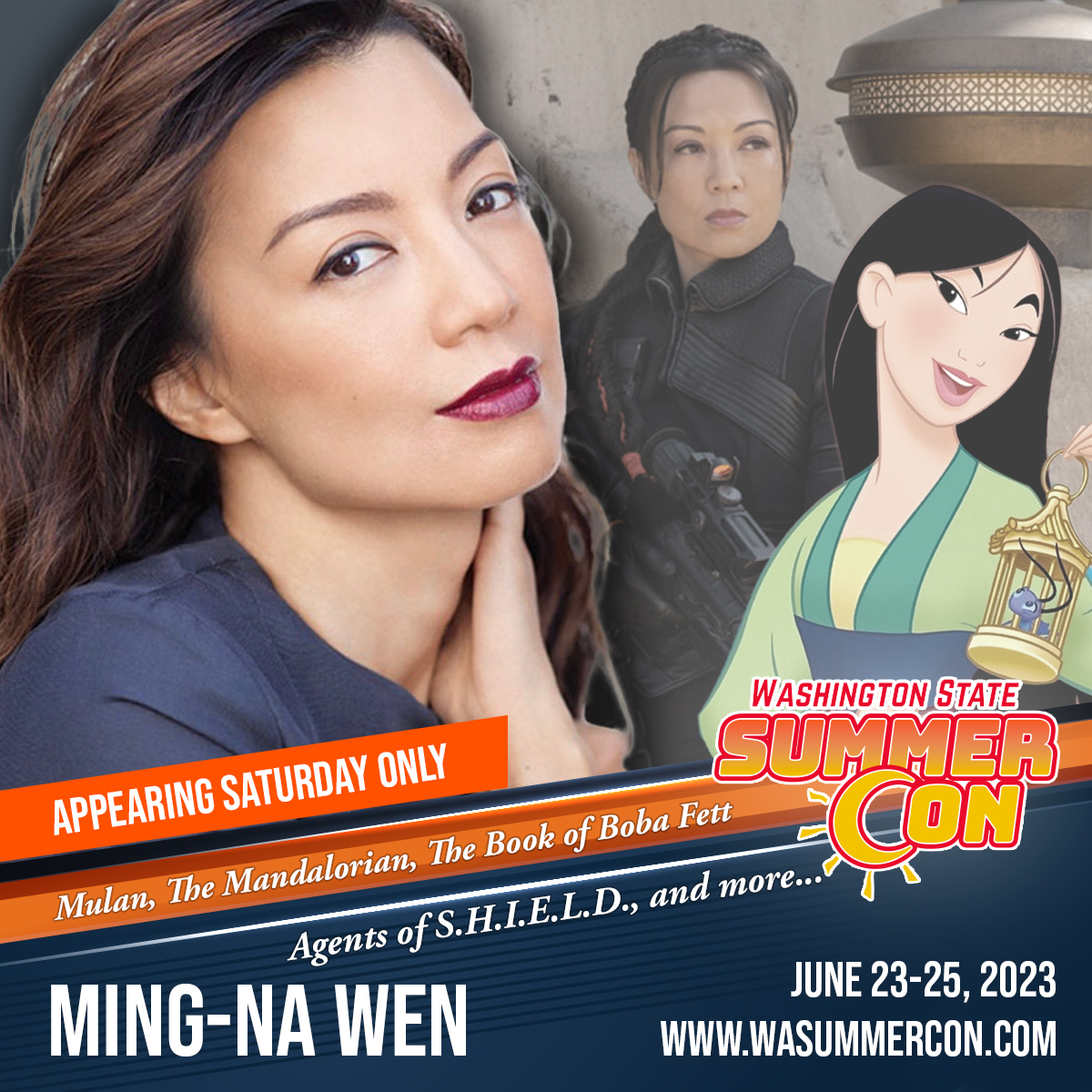 Standard Autographs – $80
Selfies – N/A
Combo – N/A
(selfies and autograph)
It is now time to bring in The Cavalry, an elite assassin, a heroic warrior, and a Disney Legend to the lineup at the Washington State Summer Con. She has been at the top of our list for years, and we are honored to host the amazingly talented Ming-Na Wen to Puyallup on Saturday, June 24th.
Ming-Na first won attention with her touching and critically acclaimed performance as June in the feature film THE JOY LUCK CLUB. But she is most noted for her portrayal of Dr. Jing-Mei Chen on the hit show ER. Other series have included SGU STARGATE UNIVERSE and EUREKA.
Ming-Na received the first contract role for an Asian-American actor in a daytime drama when she won the part of Lien Hughes on "As the World Turns." Other television credits include "Law and Order SVU," "Boston Legal," "The George Lopez Show," "Private Practice," and "Two and a Half Men."
The diverse actress proved she was able to play more than the gentle wallflower June in "The Joy Luck Club," when she tackled the role of Chun-Li, the butt-kicking female lead in "Streetfighter."
Ming-Na is proud to be the title voice of "Mulan," Disney's animated feature (for which she won an Annie Award), as well as the lead voice of Aki Ross in the stunning CGI animated film "Final Fantasy." The talented actress has also has lent her voice to the shows Phineus and Ferb and Ni Hao Kai Lan; as well as documentaries and children's books.
Ming was one of the leads of "Marvel's Agents of S.H.I.E.L.D." on ABC. She currently portrays Fennec Shand in the Star Wars franchise in The Mandalorian, The Bad Batch, and The Book of Boba Fett.
Ming-Na has been included in People magazine's list of the 50 most beautiful people; was named one of the 100 most influential Asian Americans of the past decade.