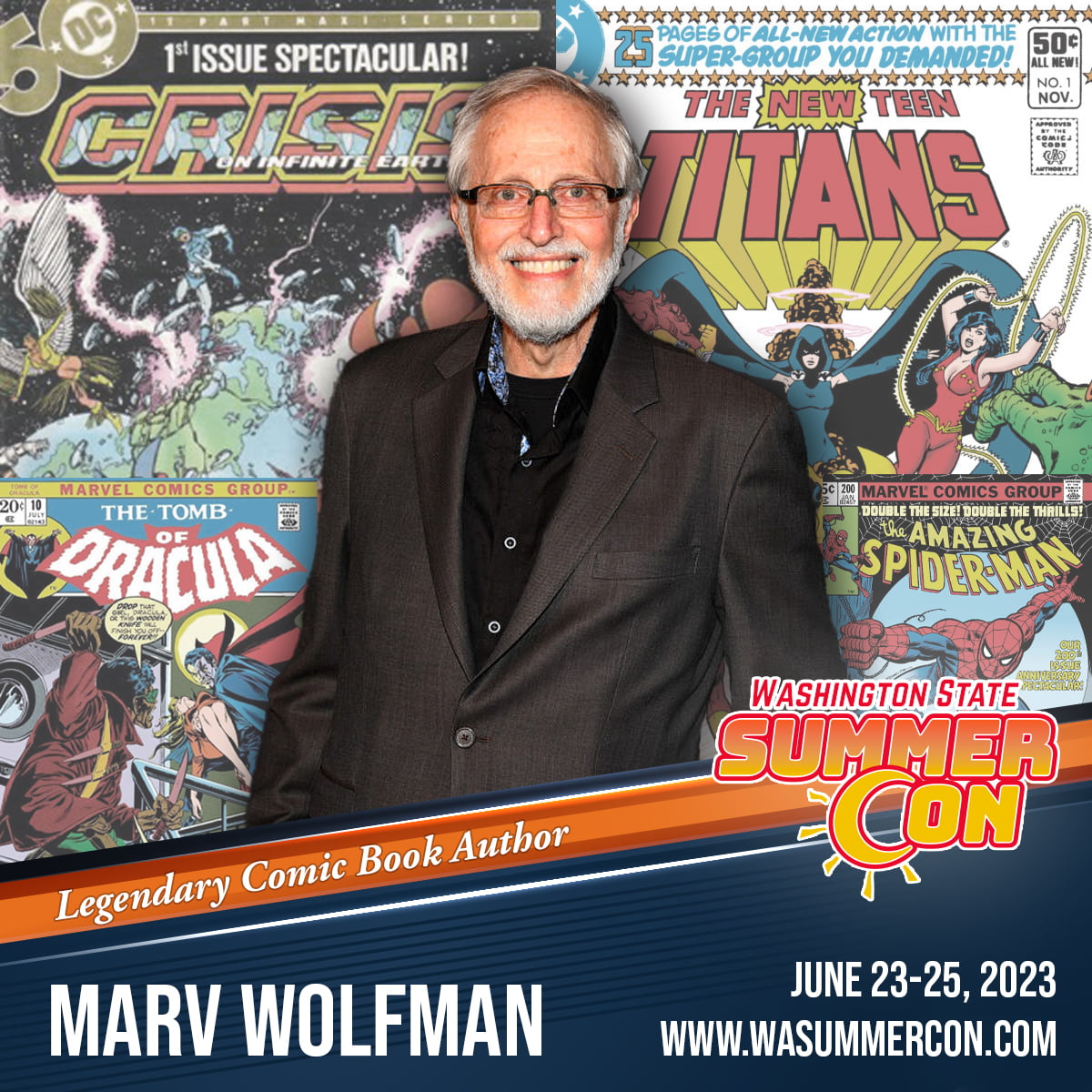 Please welcome the award-winning author and former Marvel editor-in-chief, Marv Wolfman, to kick off the lineup for this year's Washington State Summer Con on June 23rd-25th. We are honored welcome a legend responsible for so many characters that we enjoy in comic books, television, and movies to the Pacific Northwest.
Wolfman is known for his many writing credits, his collaborations with George Perez, his work on Marvel horror titles such as Tomb of Dracula, Crisis on Infinite Earths, and the New Teen Titans for DC Comics.
Marv Wolfman was inducted into the Eisner Hall of Fame in 2011. He has created or co-created dozens of characters, including: Black Cat, Nova, Blade, Bullseye, Terrax, Cyborg, Starfire, Raven, Deathstroke, Jericho, and Nightwing/Tim Drake to name a few.
Wolfman moved to Marvel as a protege to editor Roy Thomas and would later take over the position of editor-in-chief. While at Marvel, Wolfman wrote lengthy runs of Amazing Spider-Man, Doctor Strange, Fantastic Four, and Godzilla.
In 1980, Wolfman returned to DC, teamed up with penciler George Pérez and relaunched DC's Teen Titans. The New Teen Titans added the Wolfman-Pérez creations of Raven, Starfire and Cyborg to the old team's Robin, Wonder Girl, Kid Flash, and Beast Boy. Through this series, he also created the supervillain Deathstroke.
While at DC, Marv would work on Action Comics, Night Force, Green Lantern, Batman, and the DC Challenge limited series. In 1985, Wolfman and George Pérez launched the ground-breaking Crisis on Infinite Earths, a 12-issue limited series celebrating DC's 50th anniversary featuring a cast of thousands and a timeline that ranged from the beginning of the universe to the end of time.