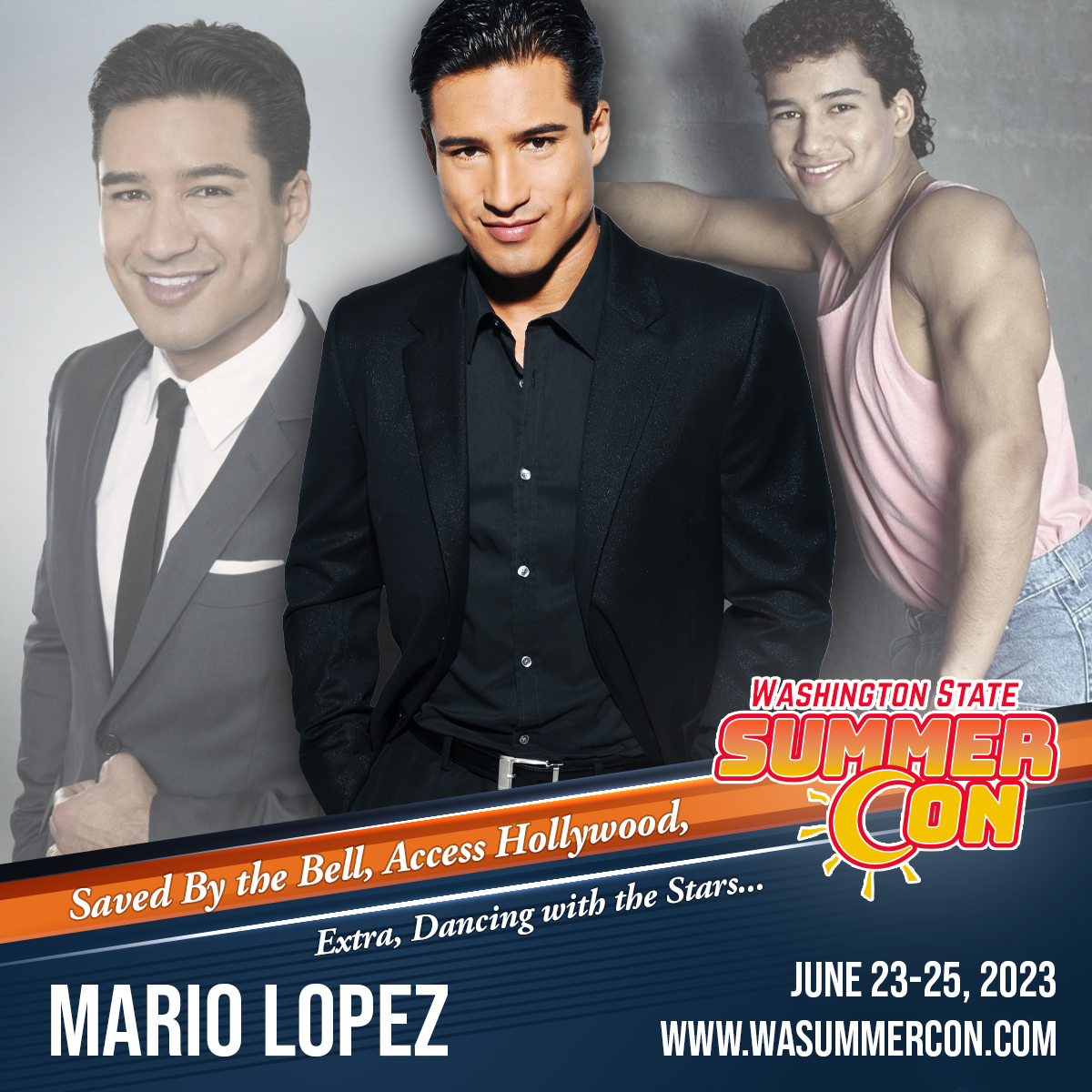 Pro Photos – $60
Bayside Duo Photos – $90
Standard Autographs – $50
(Autographs can be purchased at their table)
Selfies – TBD
Combo – TBD
(selfies and autograph)
Let's also add Bayside's resident jock and other heartthrob to the Washington State Summer Con's lineup. Please welcome the multi-talented actor and television and radio host Mario Lopez to our lineup in Puyallup from June 23rd through the 25th.
Mario Lopez is known for his portrayal of A.C. Slater while starring in the hit television comedy series Saved by the Bell from 1989 to 1993. He would later reprise the role in two TV movies and a spin-off, Saved by the Bell: The College Years and Saved by the Bell: The New Class.
Mario Lopez started to learn dance when he was three and was cast as a drummer and dancer on Kids Incorporated at eleven. Lopez starred as Olympic diver Greg Louganis in the television movie Breaking the Surface: The Greg Louganis Story. The following year, he was cast as Bobby Cruz in the USA Network series Pacific Blue; he then went on to guest star on Resurrection Blvd., Eve, and The Bad Girl's Guide. Mario joined the cast of the daytime soap opera The Bold and the Beautiful, playing the role of Dr. Christian Ramirez.
He has appeared in numerous projects since, including the third season of Dancing with the Stars, where he finished as the runner-up and as host for the syndicated entertainment news magazine shows Extra and Access Hollywood. He has also hosted America's Best Dance Crew for MTV and three seasons of The X Factor. Lopez has hosted the Miss America and Miss Universe pageants.
In 2012, Lopez began hosting his nationally syndicated radio show, "ON with Mario Lopez," for Premiere Radio. It streams online daily on iHeartRadio and airs on selected CHR and Hot AC stations throughout America. Mario Lopez has published a fitness book, two cookbooks and a children's book.