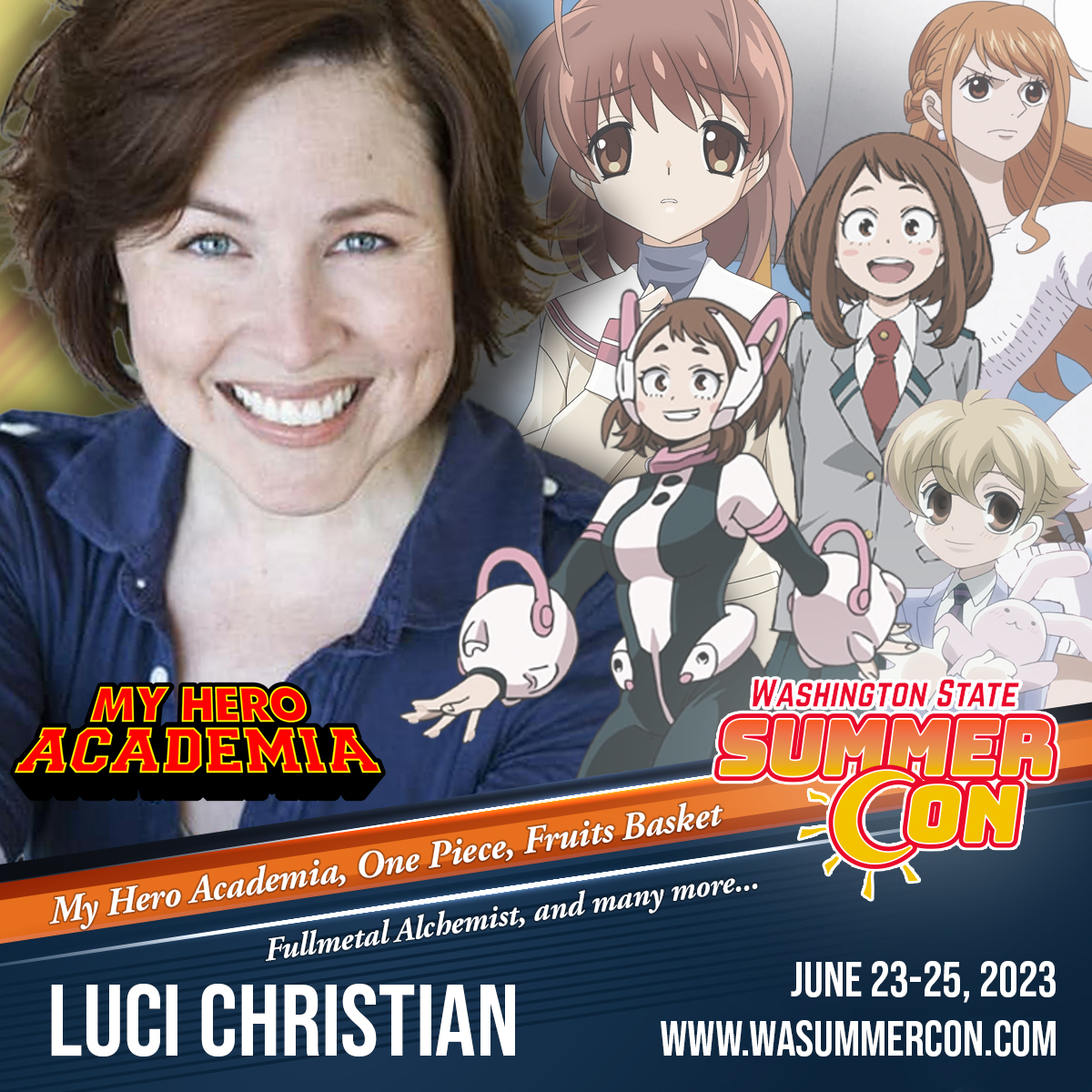 My Hero Academia Cast Photos – $230
(Ballard, Briner, Chapin, Christian, Matranga, Mcguire, Rial)
Standard Autographs – $50
Selfies – TBD
Combo – TBD
(selfies and autograph)
Please welcome another prolific anime voice actress, Luci Christian, to the Washington State Summer Con on June 22nd through the 25th in Puyallup. In addition to an enormous resume, she is an ADR director and a scriptwriter for Funimation and Seraphim Digital/Sentai Filmworks. According to the Anime News Network, Luci has the second-highest total acting credits and only trails fellow Summer Con attendee Monica Rial.
Luci voices the bubbly and kind-hearted Ochaco Uraraka / Uravity on My Hero Academia. Luci is well renowned for her Anime voice work, with just almost 600 credits to her resume including Log Horizon, Food Wars, One Piece, School Rumble, and many more!
In 1998, she landed her first voice-acting role in the anime Those Who Hunt Elves. She has since provided voices in numerous other anime roles including Ochaco in My Hero Academia, Nami in One Piece, Hestia in Is It Wrong to Try to Pick Up Girls in a Dungeon?, Honey in Ouran High School Host Club, Trixie in Blade Runner: Blackout 2020, Medusa in Soul Eater, Wrath in Fullmetal Alchemist, Kaname in Full Metal Panic, Yuki in Food Wars, Reg in Made in Abyss, Kyuta in The Boy and The Beast, Lenalee in D. Grayman, Carmen in Starship Troopers, Asuna in Negima, Alois Trancy in Black Butler, Tenma in School Rumble, Rico in Gunslinger Girl, Ophelia in Claymore, the Narrator in Kamisama Kiss, Hungary in Hetalia, Cocona in Flip Flappers, Murano in Parasyte: the Maxim, Deunan in Appleseed, Elsie in the World God Only Knows, Nagisa in Clannad, Kelly in Halo Legends, Duck/Tutu in Princess Tutu, Sasshi in Magical Shopping Arcade Abenobashi, Yukari in Azumanga Daioh, Yurin in Dragon Ball Super, Azuki in Nekopara, Hartmann in Strike Witches, and Shaun in the new Saint Seiya.