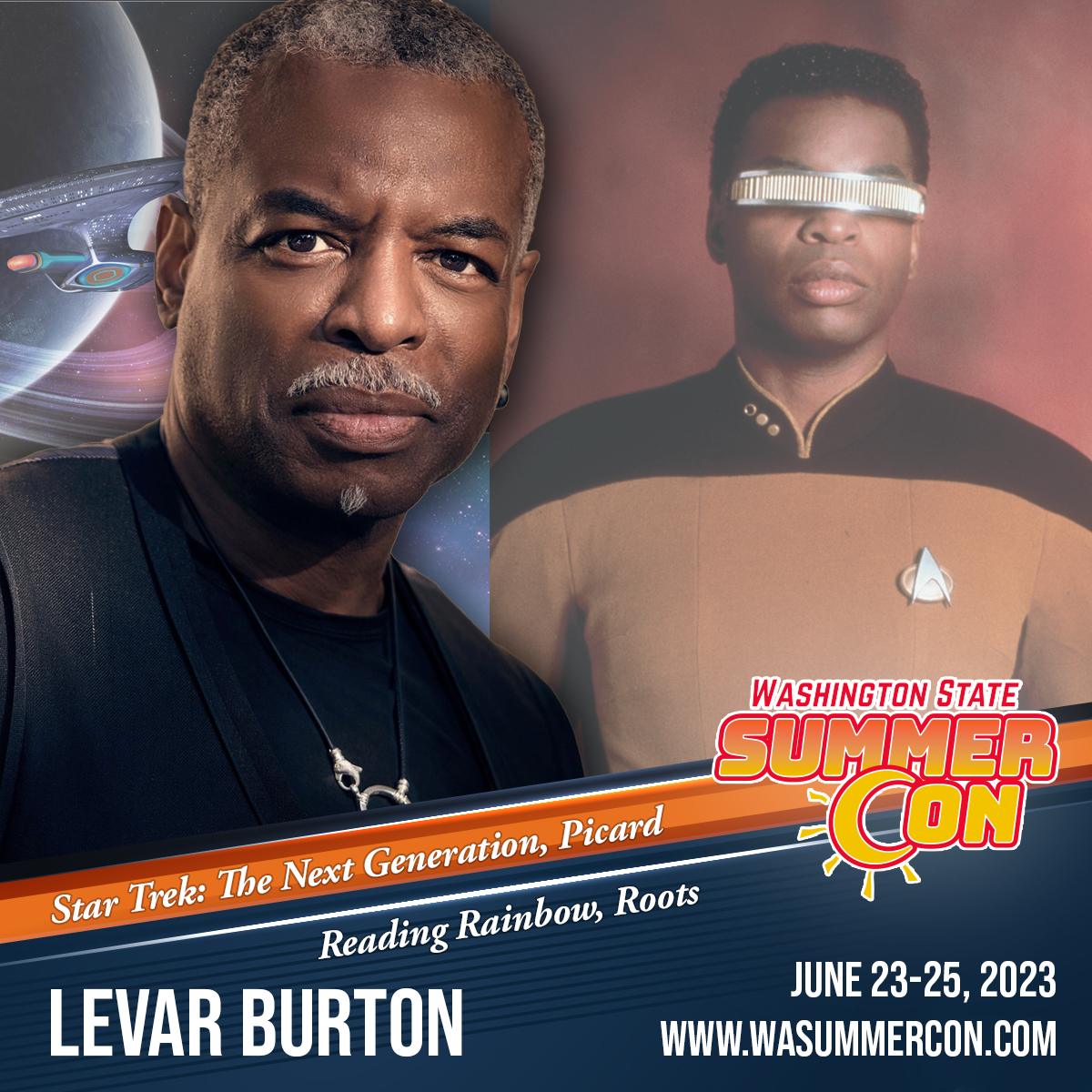 Individual Pro Photos – $70
Riker, Troi, and La Forge Trio – $170
The Next Generation Quad – $220
All Trek Cast – $320
Standard Autographs – $60
(Autographs can be purchased at their table)
Selfies – $50
Combo – $80
(selfies and autograph)
Take a look; it's Geordi La Forge! Please welcome Emmy and Grammy award winner LeVar Burton to the Washington State Summer Con from June 23rd through the 25th in Puyallup. LeVar is known for his long-running role in Star Trek: The Next Generation and his 23 years of hosting and producing the award-winning Reading Rainbow.
LeVar Burton is an actor, director, educator & cofounder of the award-winning Skybrary App, former host and executive producer of PBS's "Reading Rainbow," and a lifelong children's literacy advocate. He hosts his own podcast, 'LeVar Burton Reads,' sharing the best short fiction handpicked by the best voice in podcasting. LeVar also has a new YouTube Series, 'This Is My Story,' highlighting racism in America.
LeVar starred as Kunta Kinte in the acclaimed mini-series Roots. LeVar portrayed Lt. Commander Geordi LaForge in Star Trek: The Next Generation television series and in four feature films. He directed two episodes of Star Trek: The Next Generation and several episodes of Star Trek: Deep Space Nine, Star Trek: Voyager, and Star Trek: Enterprise. He reprised the role of LaForge in the third and final season of Star Trek: Picard.
LeVar has been nominated for three Primetime Emmy Awards and 27 Daytime Emmy nominations, culminating in 21 wins. During its 26-year run from 1983 to 2009, Reading Rainbow was not only one of the longest-running children's television shows in history but won more than 25 awards, including 10 for outstanding series and the prestigious George Foster Peabody Award. LeVar won the Spoken Word Grammy Award for narrating "The Autobiography of Martin Luther King Jr."