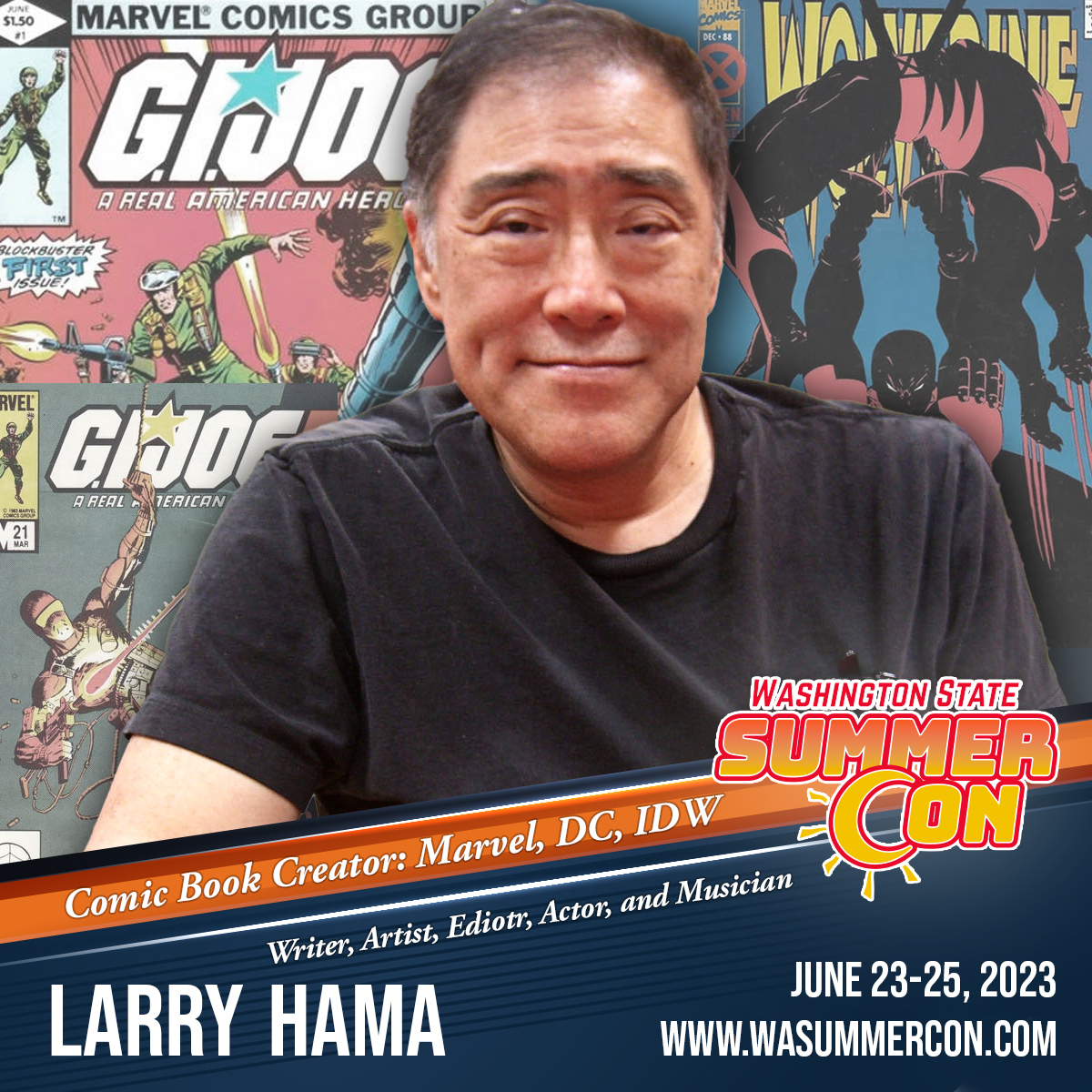 Let's welcome another legend in the comic book industry. Please welcome Mr. Larry Hama to the Washington State Summer Con from June 23rd through the 25th in Puyallup. Larry has held many titles through the years, including editor, writer, artist, actor, musician, and Army veteran. Hama is widely known for his extensive run on the G.I. Joe series but has accomplished so much more.
His career in the comic book industry started after serving in the United States Army from 1969 to 1971, during the Vietnam War, when he became a firearms and explosive ordnance expert. He played a role in a M*A*S*H episode and a Saturday Night Live spoof of Apocalypse Now in his short-lived acting career, then turned to art. Larry worked at DC Comics as editor of Wonder Woman, Mister Miracle, Super Friends, and The Warlord. While at DC, he would also write for Batman.
In 1980, Hama became an editor for Marvel, where his credits included Conan and The 'Nam. He wrote many comics for Marvel, such as Wolverine, Before Fantastic Four: Ben Grimm and Logan, Generation X, and Nth Man: The Ultimate Ninja.
Larry's most notable work was that as a writer for Marvel's G.I. Joe: A Real American Hero and G.I. Joe: Special Missions series. He would write all 155 issues of the series from 1982-1994. He also wrote the file cards for Hasbro's G.I. Joe action figures line.
Larry wrote G.I. Joe in IDW's G.I. Joe: Origins series, which is a retelling of the formation of the G.I. Joe team. Initially, the series was only to be a five-issue mini-series written solely by Hama, but it took on a longer run where Hama would come back and write a few issues. Hama wrote G.I. Joe stories for IDW on the G.I. Joe: A Real American Hero series, a continuation of his Marvel series of the same name. He also consulted for the Paramount Pictures live-action movie G.I. Joe: The Rise of Cobra.