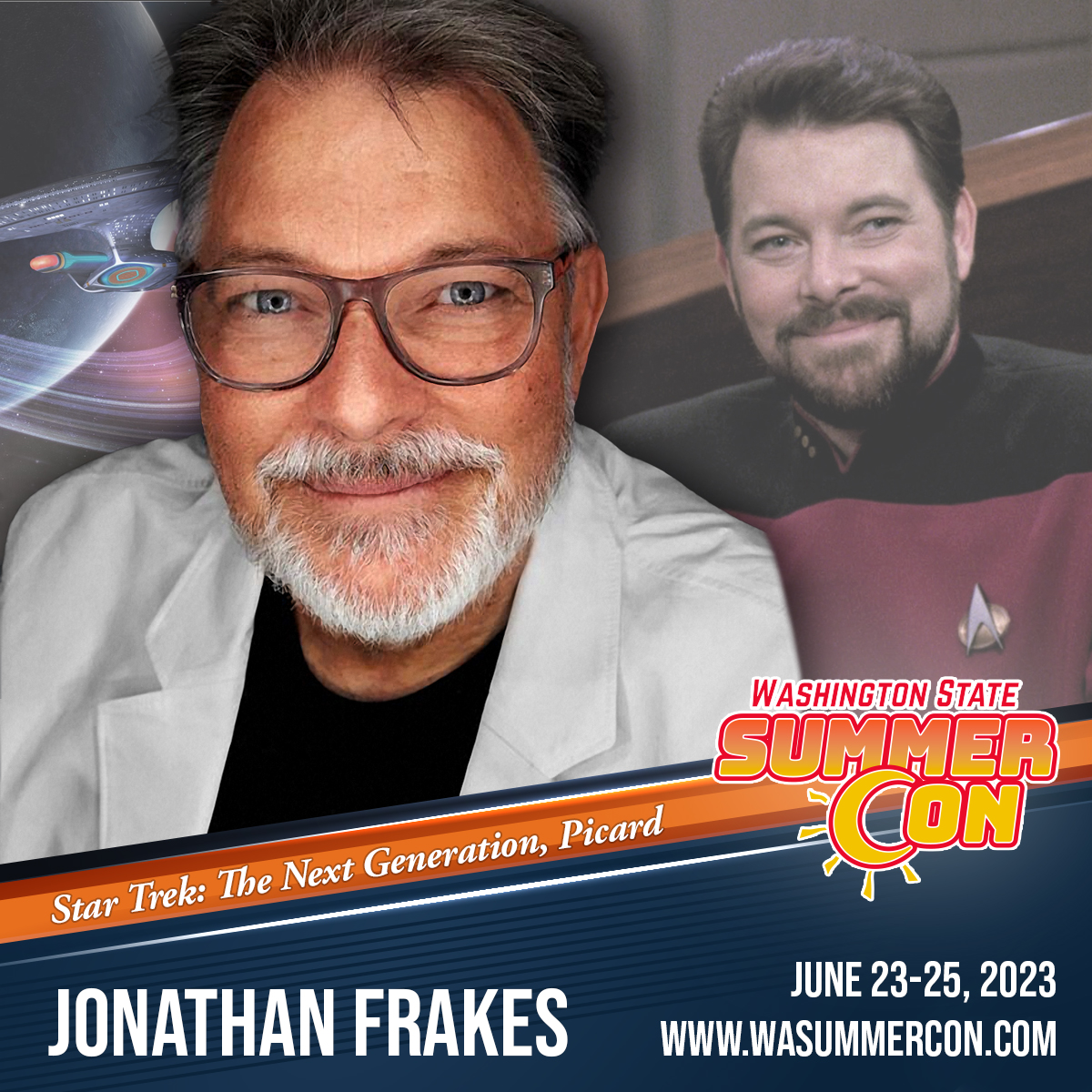 Individual Pro Photos – $70
Riker and Troi Duo – $120
Picard Directors Duo – $120
Riker, Troi, and La Forge Trio – $170
The Next Generation Quad – $220
All Trek Cast – $320
Standard Autographs – $60
(Autographs can be purchased at their table)
Selfies – TBD
Combo – TBD
(selfies and autograph)
Attention Picard fans… Number One is headed to the Washington State Summer Con from June 23rd through the 25th. Please welcome Commander and Captain Riker, Jonathan Frakes, to our lineup in Puyallup this summer. Jonathan has been on our guest wish list for years, and we are ecstatic to bring an acting and directing Superstar from the Star Trek Universe this year.
Jonathan Frakes is an actor, director, and author. He is renowned for portraying Commander William T. Riker in Star Trek: The Next Generation and four Star Trek films. Frakes also appeared as Riker in Star Trek: Deep Space Nine, Star Trek: Voyager, Star Trek: Enterprise, Star Trek: Picard, and Star Trek: Lower Decks, and portrayed Thomas Riker in an episode of The Next Generation and an episode of Deep Space Nine. He is currently starring in the hit series Star Trek: Picard on Paramount+.
Jonathan also directed a number of The Next Generation, Deep Space Nine, Voyager, Star Trek: Discovery, and Picard episodes, along with two Star Trek films, Star Trek: First Contact and Star Trek: Insurrection. He and David Carson are the only people to have directed Star Trek television and film productions. He is one of only three actors to play the same character in four different live-action Star Trek series and is one of two actors to appear on screen with four Star Trek captains.
Frakes has directed four motion pictures and numerous television series outside of the Star Trek universe, including episodes of Roswell, Leverage, Castle, NCIS: Los Angeles, Burn Notice, Falling Skies, Marvel's Agents of S.H.I.E.L.D., Switched at Birth, Hit the Floor, The Librarians, and The Orville to name a few.