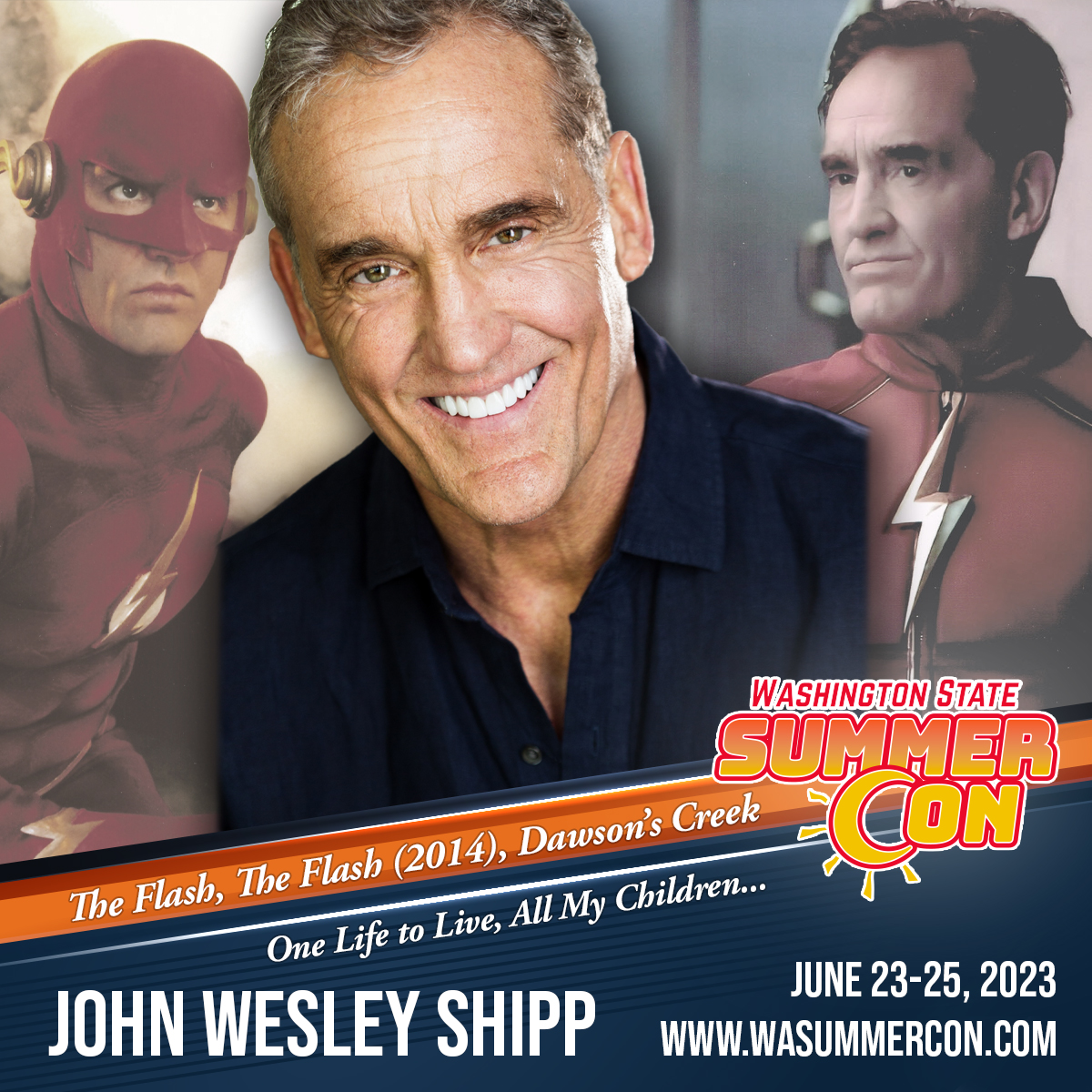 Pro Photos – $50
Ultimate Flash Duo Photos – $180
(Grant Gustin and John Wesley Shipp)
Standard Autographs – $40
(Autographs can be purchased at their table)
Selfies – $40
Combo – TBD
(selfies and autograph)
Just one "quick" announcement. John Wesley Shipp, AKA The (original) Flash, is coming to the Washington State Summer Con from June 23rd through the 25th in Puyallup. Please welcome an Emmy-winning actor that has always been a comic-con favorite to Puyallup this summer.
John played the lead Barry Allen on CBS's superhero series The Flash from 1990 to 1991. A few years later, he portrays Barry Allen's father, Henry, Earth-2 Flash Jay Garrick, and Earth-90's Barry Allen/The Flash on the current series The Flash on the CW network. John has played four different roles in the "Flash" multiverse: Barry Allen, Professor Zoom, Henry Allen, and Jay Garrick. In 2018, John appeared in the "Arrowverse" crossover, "Elseworld" reprising his role as "90's Flash / Barry Allen," once again donning the Classic Flash suit to the delight of Flash fans everywhere.
John also portrayed the title character's father on the drama series Dawson's Creek from 1998 to 2001. He continued a role on Season 5 of NBC's hit drama "Sisters" and terrified audiences with his haunting arc as Isaac's abusive father and Beacon Hills gravedigger, Mr. Lahey, opposite Daniel Sharman on MTV's drama "Teen Wolf." Shipp has played several roles in daytime soap operas, including Kelly Nelson on Guiding Light from 1980 to 1984 and Douglas Cummings on As the World Turns from 1985 to 1986 (which earned him his first Daytime Emmy Award).
John has starred in several movies on the Hallmark Channel, including "Ruby Herring Mysteries" and "Her Last Breath." John also stars in the film "Night Sweats" as "Nick Frankenthaler" in this based on a true story thriller. Not limited to television, John is a classically trained theater actor who also studied opera.
Other television credits include Lifetime's hit Drop Dead Diva, CBS's JAG and CSI: NY, Showtime's The Outer Limits, TNT's The Closer, the Lifetime movies Christie's Revenge and Road Rage, and ABC's seminal cop drama NYPD Blue. He also starred in the film Hell and Mr. Fudge, and The Sector with Lance Henriksen and Richard Tyson.