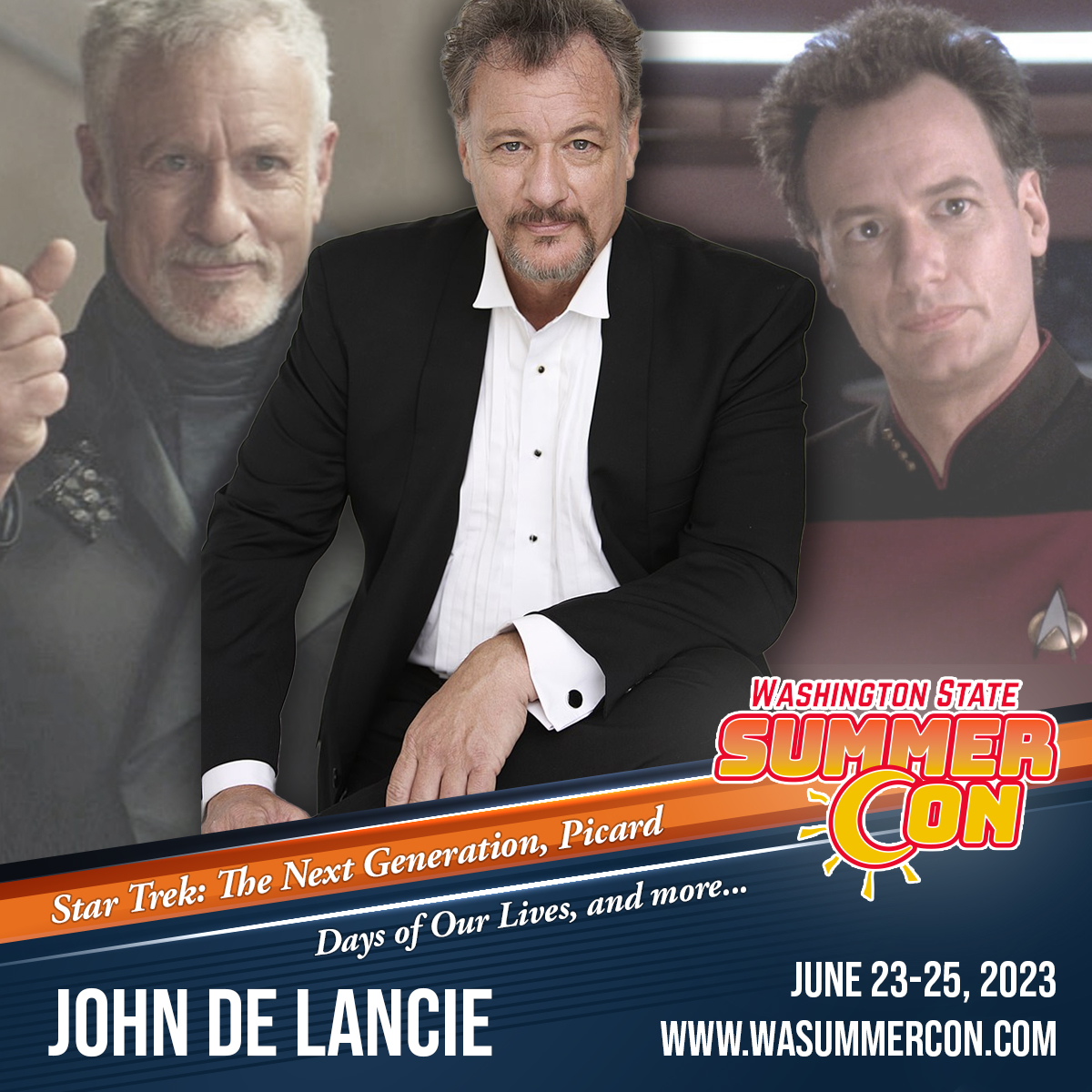 Individual Pro Photos – $70
The Next Generation Quad – $220
All Trek Cast – $320
Standard Autographs – $60
(Autographs can be purchased at their table)
Selfies – TBD
Combo – TBD
(selfies and autograph)
Not intending to let the "lesser beings" have all of the fun, Q has decided to join the Washington State Summer Con lineup. Please welcome actor, director, producer, writer, and comedian John de Lancie to our epic Star Trek lineup. John has a vast resume spanning film, television, stage, and voice acting over the last five decades.
De Lancie portrayed Q in Star Trek: The Next Generation. He is notable for his chaotic, mischievous personality. He is one of the few characters appearing in multiple franchise series: The Next Generation, Deep Space Nine, Voyager, and Lower Decks. In 2021, de Lancie reprised his role of Q in the second season of Star Trek: Picard.
A few of his other television series roles include Eugene Bradford in Days of Our Lives, Frank Simmons in Stargate SG-1, Donald Margolis in Breaking Bad, Agent Allen Shapiro in Torchwood, and the voice of Discord in My Little Pony: Friendship Is Magic.
In addition to his role in Star Trek, de Lancie appeared in other television series. In 1982, he started his career as a popular actor on Days of Our Lives as Eugene Bradford. He also had recurring roles in Stargate SG-1 and guest-starred in multiple television series, including Breaking Bad as Donald Margolis, The West Wing, Charmed, Andromeda, The Unit, MacGyver, Law & Order: LA, Torchwood: Miracle Day, Touched by an Angel, Time Trax, and Special Unit 2. John was the voice of Discord in My Little Pony: Friendship Is Magic
His film credits include The Hand that Rocks the Cradle, Get Smart, Again!, The Fisher King, Bad Influence, The Onion Field, Taking Care of Business, Fearless, Arcade, Multiplicity, Woman on Top, Good Advice, Pathology, Evolver, Reign Over Me, My Apocalypse, Crank: High Voltage, and You Lucky Dog.