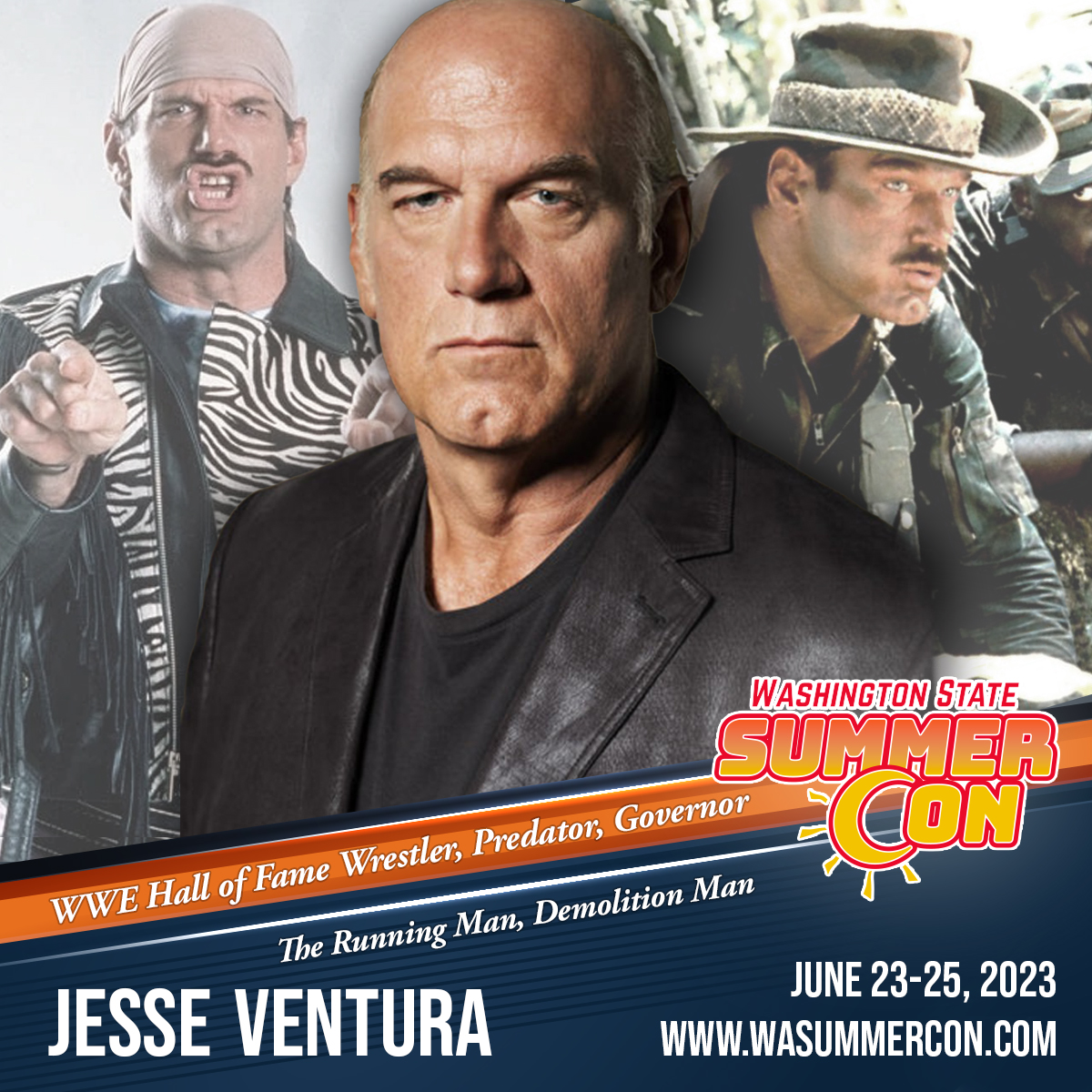 Standard Autographs – $60
Deluxe Autographs – $80
(deluxe include toys and belts)
Selfies – $60
Combo – TBD
(selfies and autograph)
He has no time to bleed, but Jesse "The Body" Ventura has time to join us for the Washington State Summer Con in Puyallup. He will be making an extremely rare 2-day appearance for all of his fans in the Pacific Northwest. Jesse Ventura is an American media personality, actor, author, retired professional wrestler, and former politician who served as the Mayor of Brooklyn Park from 1993 to 1995 and as the Governor of Minnesota from 1999 to 2003. He was the first and only candidate of the Reform Party to win a major government position.
Ventura was a U.S. Navy Underwater Demolition Team member during the Vietnam War. After leaving the military, he began a professional wrestling career from 1975 to 1986, taking the ring name Jesse "The Body" Ventura. He had a long tenure in the World Wrestling Federation (WWF) as a performer and color commentator and was inducted into the WWE Hall of Fame class of 2004. In addition to wrestling, Ventura pursued an acting career, appearing in films such as Predator, The Running Man, Demolition Man, Batman & Robin, and Major League II.
Ventura was the Reform Party candidate in the Minnesota gubernatorial election of 1998, running a low-budget campaign centered on grassroots events and unusual ads that urged citizens not to "vote for politics as usual." Ventura's campaign was unexpectedly successful, narrowly defeating the Democratic and Republican candidates. The highest elected official to ever win an election on a Reform Party ticket, Ventura left the Reform Party a year after taking office amid internal fights for control over the party.
Don't miss out on this rare opportunity to meet a true legend! Jesse will be with us Saturday and Sunday, meeting his fans, signing autographs, taking photos, and speaking on an epic panel. The Washington State Summer Con is June 23rd through the 25th in Puyallup. Admission tickets are now on sale: www.wasummercon.com