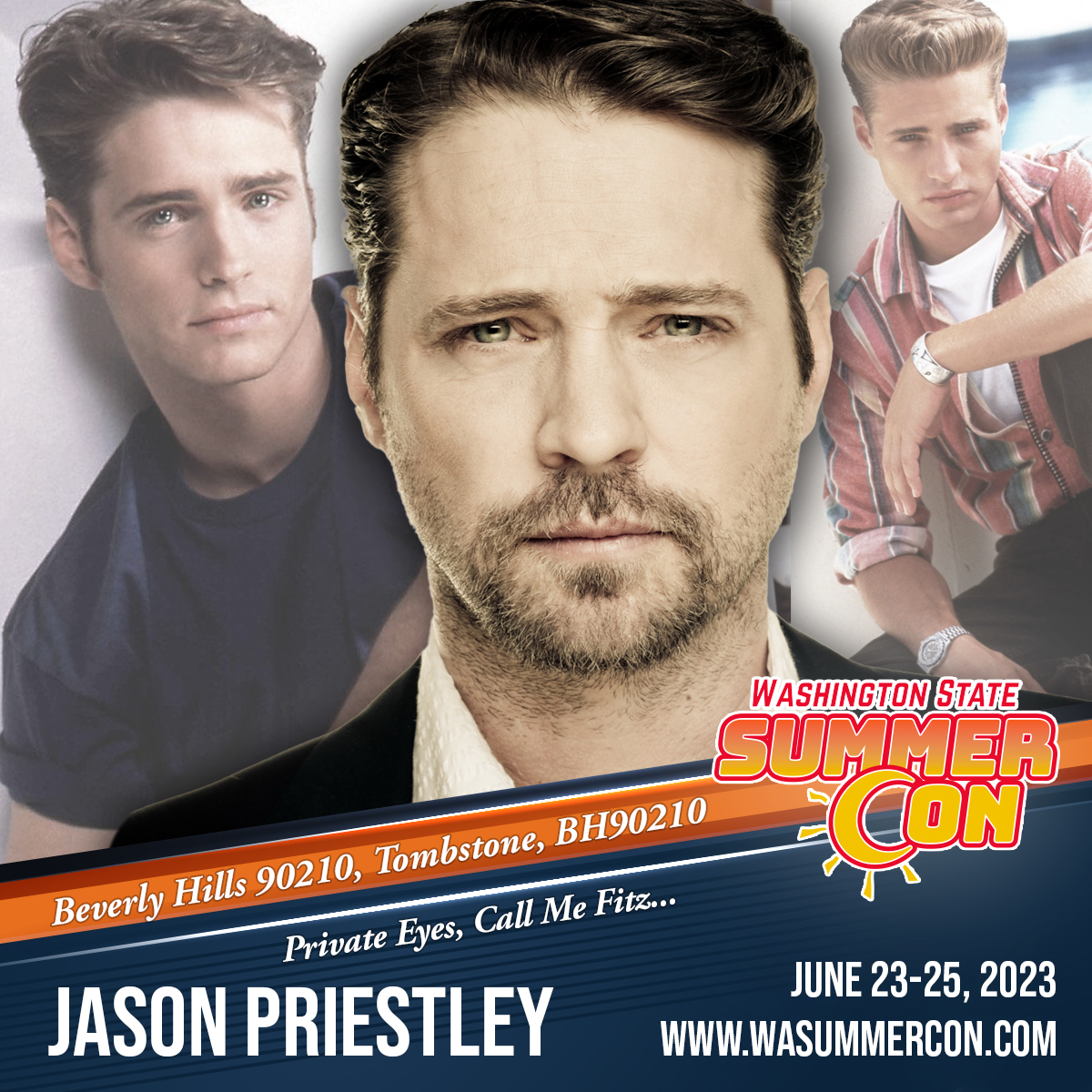 Pro Photos – $70
90210 Photo Ops – $130
(Jason Priestly and Shannen Doherty)
Standard Autographs – $50
(Autographs can be purchased at their table)
Selfies – $50
Combo – TBD
(selfies and autograph)
Hosting Brenda without Brandon just didn't seem right.  Good news, we fixed that.  Jason Priestley is headed to the Washington State Summer Con this year.  Please welcome another one of television's greatest icons of the '90s to the "Puyallup 98371" lineup from June 23rd through the 25th.
Jason Priestley is a Canadian actor and director on television and in films. He is best known as the virtuous Brandon Walsh on the television series Beverly Hills, 90210, as Billy Breckinridge in the 1993 movie Tombstone, as Richard "Fitz" Fitzpatrick in the show Call Me Fitz, and for his role as Matt Shade in the Canadian series Private Eyes (2016–2021).
In 1990, Priestley was cast as Brandon Walsh on the hit series Beverly Hills, 90210. The show garnered worldwide fame and popularity and made Priestley a teen idol, he was nominated for two Golden Globes for his work on the show. He also directed 15 of the show's episodes. He remained on the show until 1998 when Brandon moved to Washington, D.C. Brandon was the last Walsh to leave the show; however, Priestley would continue to serve as an executive producer until the show ended in 2000.
Priestley's other television work includes Tru Calling as Jack Harper, Love Monkey, the WB show What I Like About You, Without a Trace, and Haven to name a few.  He has directed a number of projects including 7th Heaven, The Secret Life of the American Teenager, Secret Life, and Goodnight for Justice to name a few.