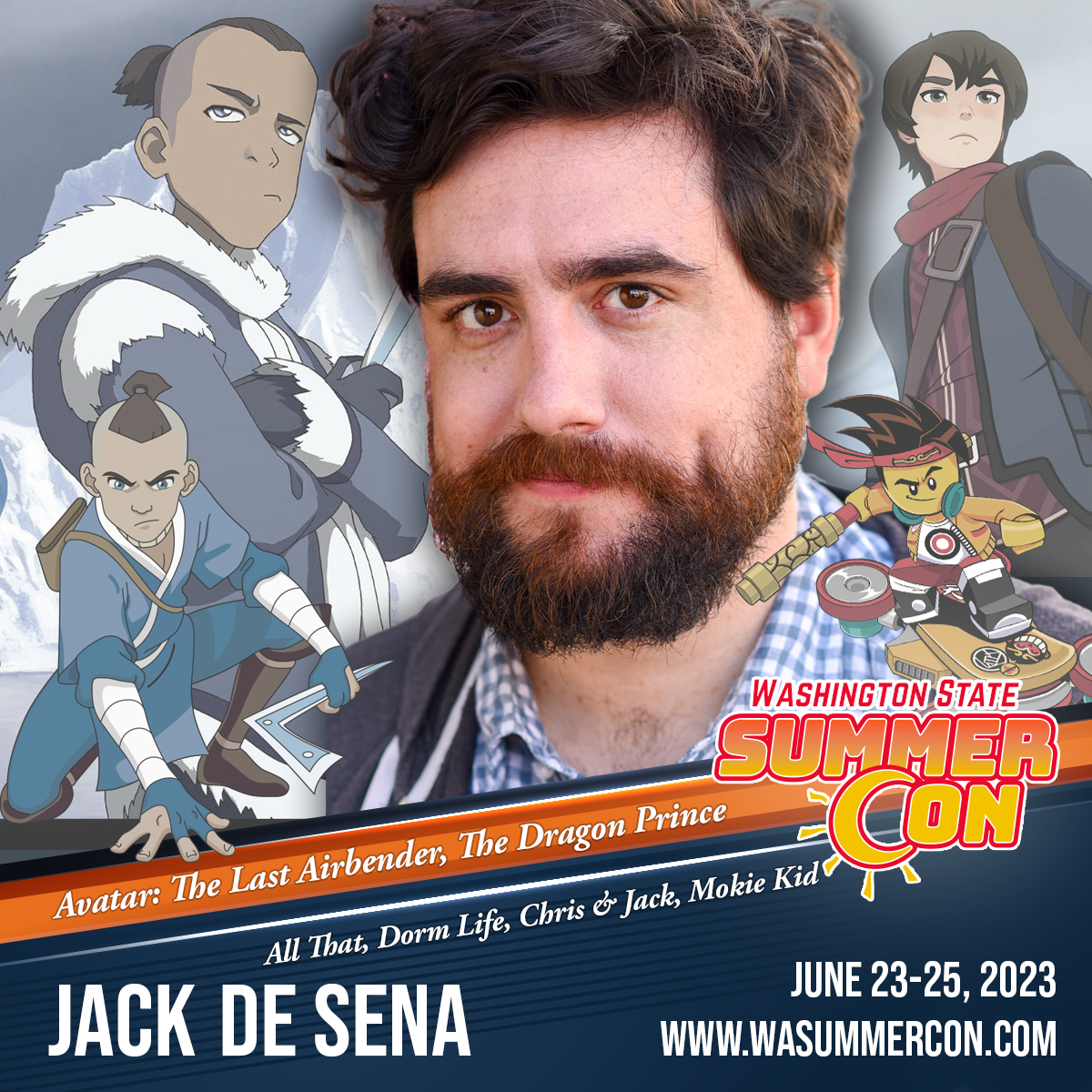 Pro Photos – $60
Quad Photos (Eisen/ Basco/ Flower/ De Sena) – $190
Entire Cast Photo (Eisen/ Basco/ Flower/ De Sena/ DeLisle/ Baldwin/ Hack/ Kwan) – $350
Standard Autographs – $50
(Purchased at the Show)
Selfies – TBD
Combo – TBD
(selfies and autograph)
We are excited to add one more cast member of Avatar: The Last Airbender to the Washington State Summer Con lineup from June 23rd through the 25th. Please welcome Jack De Sena to Puyallup this summer.
Jack is the voice of Sokka in the hit animated series Avatar: The Last Airbender. He will join Grey DeLisle, Greg Baldwin, Jessie Flower, Olivia Hack, and Dante Basco for an amazing Avatar reunion at the show.
Jack De Sena is best known for his work on the sketch comedy series All That, for the voice work of Sokka on the Nickelodeon series Avatar: The Last Airbender, and he is currently the voice of Callum on the Emmy-winning Netflix animated series The Dragon Prince.
De Sena was a very active member of the international ComedySportz troupe (a comic improvisation team that participates in games as seen on Whose Line Is It Anyway?). Having joined "All That's" cast at the start of its 7th season in 2002, he subsequently tied with Logan Lerman for the 2005 Young Artist Award for Best Performance in a TV Series (Comedy or Drama) – Leading Young Actor. He rapidly gained recognition for his skilled and clever ad-libbing from his work as Sokka on Avatar
De Sena worked on the online mockumentary web series Dorm Life. He has appeared on episodes of King of the Hill, Generator Rex, the Hulu original series Battleground,.and the sitcom Sam & Cat. He is the voice of MK in the fours season of Lego Monkey Kid.
In 2014, he voiced Robin in the animated film JLA Adventures: Trapped in Time and portrayed Jimmy Olsen in The Batman. Jack also portrayed "Mr. Roberts" in the TV series 100 Things to Do Before High School.
Jack and his long-time friend Chris W. Smith have been creating and starring in comedy sketches on their YouTube channel "Chris and Jack."