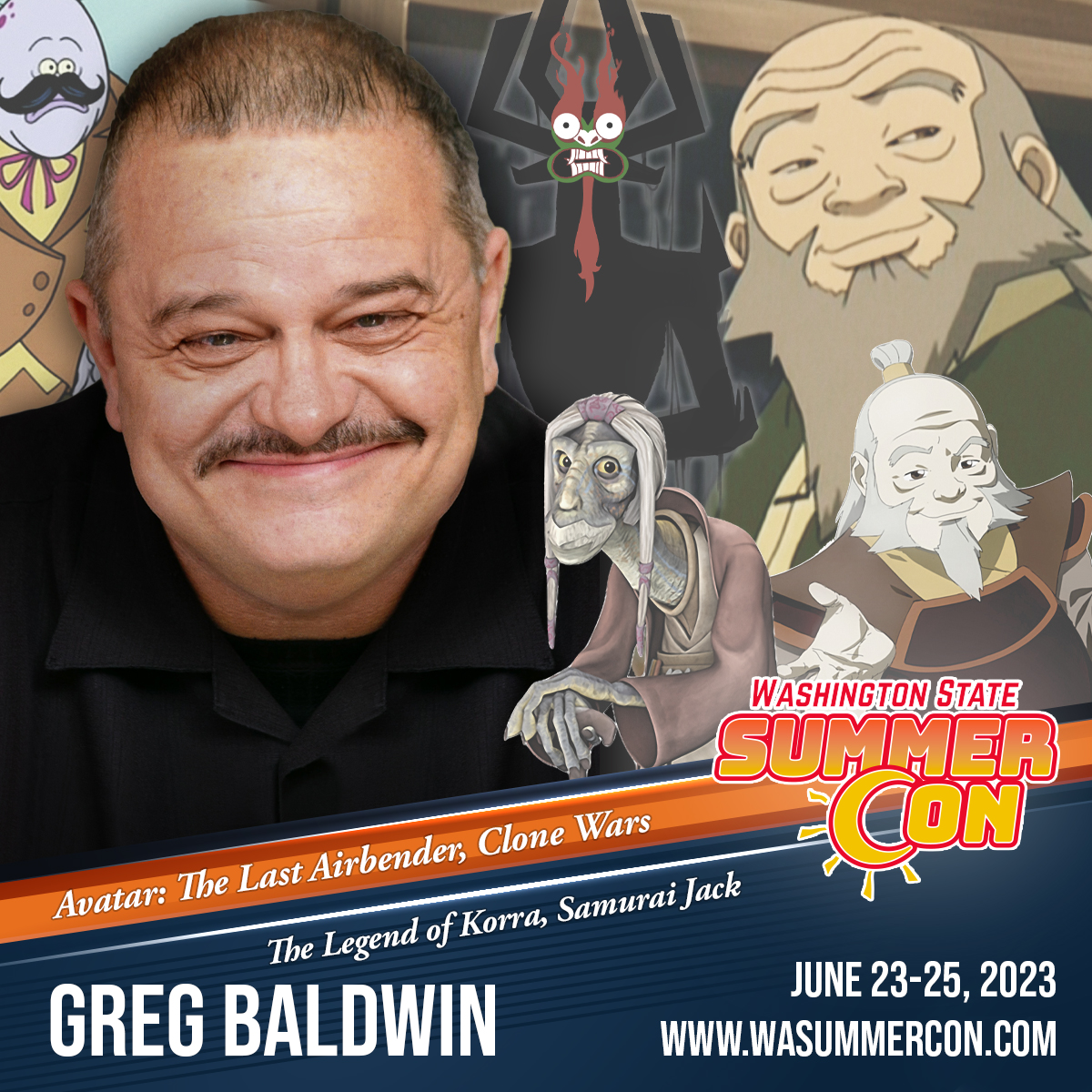 Pro Photos – $60
Duo Photos (Basco/ Baldwin) – $110
Trio Photos (Basco/ Baldwin/ DeLisle) – $150
Entire Cast Photo (Eisen/ Basco/ Flower/ De Sena/ DeLisle/ Baldwin/ Hack/ Kwan) – $350
Standard Autographs – $50
(Purchased at the Show)
Selfies – TBD
Combo – TBD
(selfies and autograph)
To round out our mini Avatar: The Last Airbender reunion at the Washington State Summer Con, we have invited Greg Baldwin to join the lineup. Baldwin voiced the beloved Uncle Iroh for the final seasons of Avatar: The Last Airbender and for The Legend of Korra. Zuko, Toph, Azula, and Uncle Jack will all be in Puyallup from June 23rd through the 25th.
Greg also voices the ancient Jedi Master Tera Sinube, Gwarm, and Cassis on Star Wars: The Clone Wars and provides the voice of multiple characters in Lego Star Wars: The Freemaker Adventures. He voiced Aku in the fifth season of Samurai Jack.
Baldwin voiced the iconic character Frank Fontaine in the original Bioshock. In addition, he voiced Proctor Teagan in Fallout 4 and Jack M. Crazyfish in Spongebob Squarepants. In the 2007 film TMNT, Baldwin performed a substantial portion of Splinter's dialogue in the movie after Mako died during production.