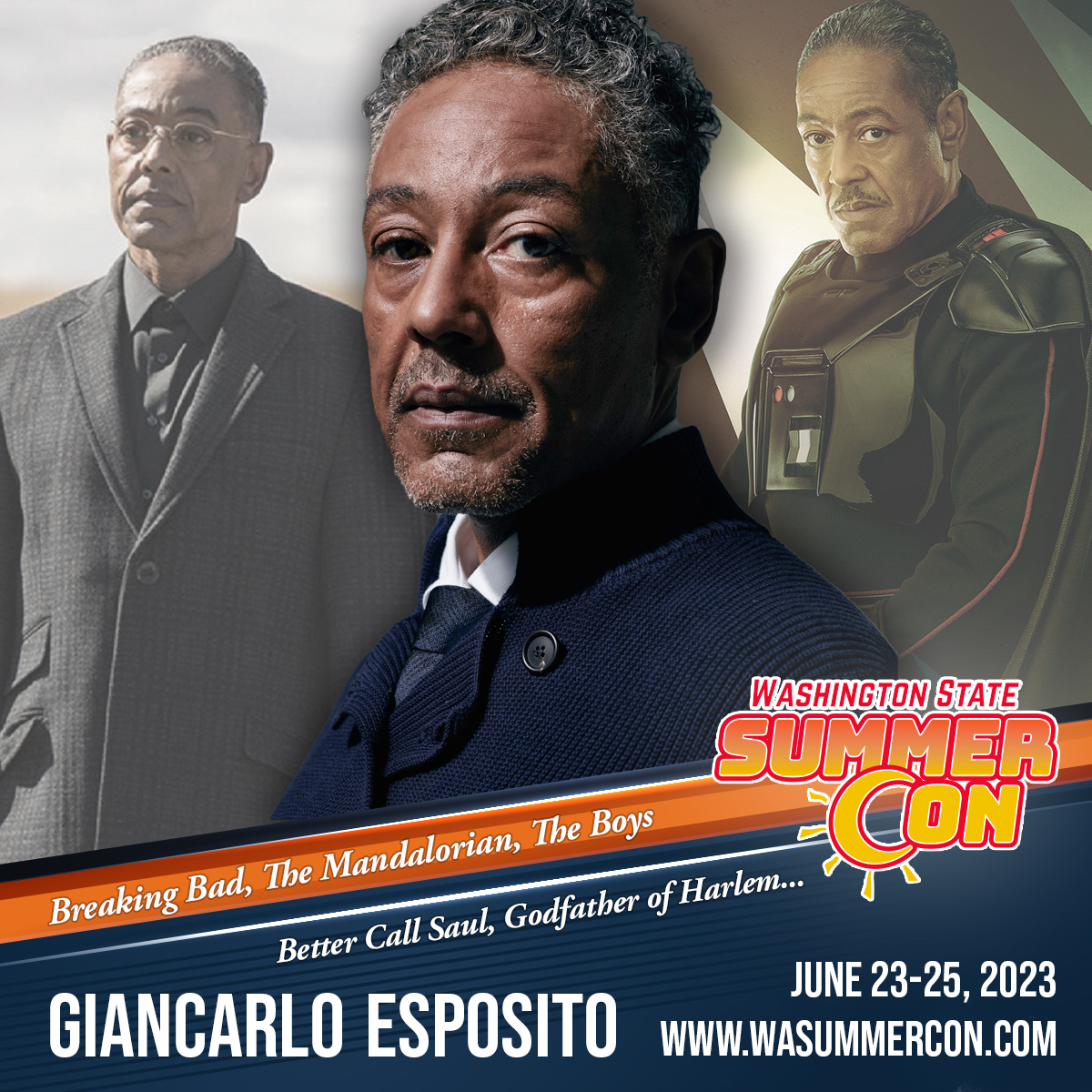 Standard Autographs – $80
(Autographs can be purchased at their table)
Selfies – $60
Combo – $120
(selfies and autograph)
Moff Gideon is back!! Please welcome back the amazingly talented Giancarlo Esposito for an official Washington State Summer Con from June 23rd through 25th in Puyallup. He last joined us for a few hours in our encore Summer Con Again show in 2021, but we always had plans for his return with us for a FULL Summer Con this year.
Giancarlo Esposito has received widespread acclaim for his chilling performance as drug kingpin "Gustavo 'Gus' Fring" in AMC's Primetime Emmy-winning drama Breaking Bad and Better Call Saul. Giancarlo has received three Emmy nominations for Best Supporting Actor for this role.
Currently, Esposito plays Moff Gideon in the hit Disney+ series The Mandalorian, for which he has been nominated for an additional two Emmys bringing his total to five nominations. His other notable roles also include Stan Edgar in the hit Amazon series The Boys, Magic Mirror in Once Upon a Time, Adam Clayton Powell in The Godfather of Harlem, Revolution, and Kaleidoscope.
Giancarlo has acted in many feature films, including The Cotton Club, Desperately Seeking Susan, The Usual Suspects, The Maze Runner Series, The Jungle Book, and Okja. He has also worked with director Spike Lee in the films Do the Right Thing, Mo' Better Blues, School Daze, and Malcolm X. Giancarlo also narrates the Netflix series Dear White People.
Giancarlo has another seven projects currently in production, including the Baxter Stockman in the upcoming Teenage Mutant Ninja Turtles: Mutant Mayhem, set to be released in August.