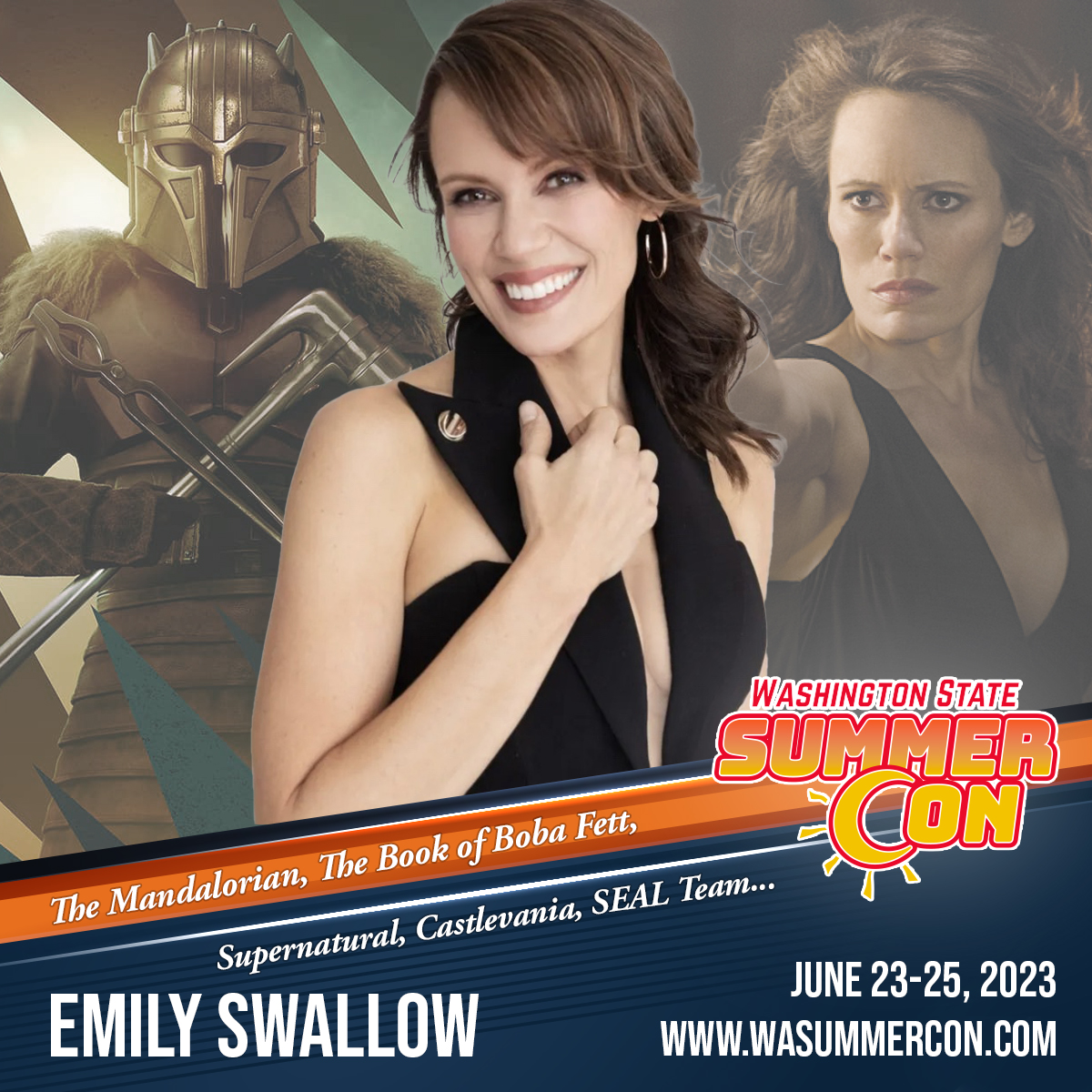 Standard 8×10 Autographs from the table – $60
Personal Items, Toys, Pops, etc. – $80
Selfies – TBD
Combo – TBD
(selfies and autograph)
Before she left Puyallup in 2021, Emily told us she would return anytime. After Monday, anytime became now, and our favorite Child of the Watch is now on her way to the Washington State Summer Con from June 23rd through the 25th. Please welcome back Emily Swallow, who happens to be one of the nicest and sweetest celebrity guests that you will get to meet – "This is the Way."
On television, Emily is best known for portraying Amara in Supernatural and as The Armorer in the hit Disney+ Series The Mandalorian. With each episode of The Mandalorian, Emily is quickly becoming one of the leading characters in one of the biggest television series around. She can also be heard as the voice of Dracula's ill-fated true love, Lisa Tepes, in the Netflix series Castlevania and the upcoming Castlevania: Nocturne series still in production.
Swallow's first television role was in Guiding Light, and she later played parts in Southland, Ringer, The Good Wife, NCIS, Flight of the Conchords, and Medium, as a series regular. She also appeared on TNT's medical drama Monday Mornings and Rizzoli & Isles. She had a starring role in The Mentalist as FBI agent Kim Fischer. In 2015, she was cast in the eleventh season of Supernatural as the new character Amara, "the Darkness."
In The Last of Us Part II, Emily also voiced Emily with fellow Summer Con guest Troy Baker. She continues to act on stage whenever she can. She is a gifted singer as she has performed in many musicals as well as rock concerts.
Come meet Emily Swallow at the Washington State Summer Con all weekend at the show. She will be signing autographs, taking selfies and pro photos, and speaking on another great panel. Admission tickets are on sale now, along with Pro Photos.