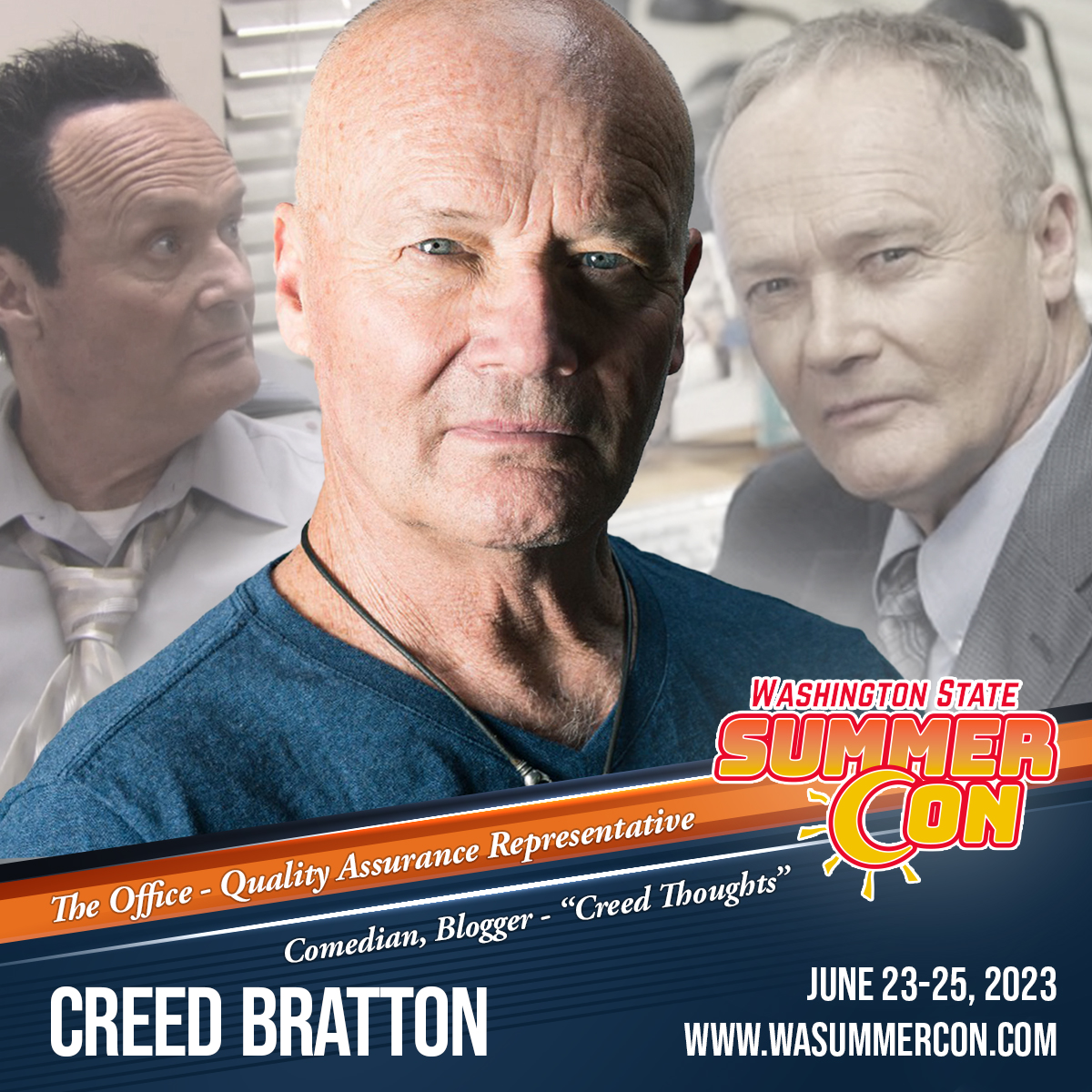 Standard Autographs – $50
(Autographs can be purchased at their table)
Selfies – TBD
Combo – TBD
(selfies and autograph)
Cool Beans. The one and only Creed Bratton is headed to Puyallup for the Washington State Summer Con from June 23 through the 25th. Continuing our tradition of hosting a cast member of The Office, we couldn't be more excited to bring the Creed Bratton that portrayed… Creed Bratton
"Do you want to see a foot with four toes?" Mysterious, eccentric, good-hearted, and downright talented are all words used to describe actor and musician Creed Bratton over the years. Creed may be best known for starring as a fictional version of himself on nine seasons of the award-winning, critically acclaimed NBC series "The Office."
For nearly eight years, fans worldwide grew to love him as Dunder Mifflin's quality assurance director who unapologetically forgets the names of his co-workers and says bizarre, confusing statements regularly. If Creed was onscreen, laughs were sure to follow.
While Creed may be best known for his on-screen antics, he is also an established musician with a nearly five decades-long career. He was also a member of the popular rock group The Grass Roots in the 1960s; Bratton appeared on numerous television shows, as well as in the Doris Day movie, "With Six You Get Egg Roll."
He parted ways with the band in 1970 but continued his passion and has released his solo albums, and he isn't slowing down anytime soon. Creed released his 7th full-length album, "While the Young Punks Dance," in 2018.
Additional television credits for Creed include Grace and Frankie, Comedy Bang! Bang!, Franklin & Bash, Adventure Time with Finn & Jake, The Bernie Mac Show", Eight Is Enough and Quincy.