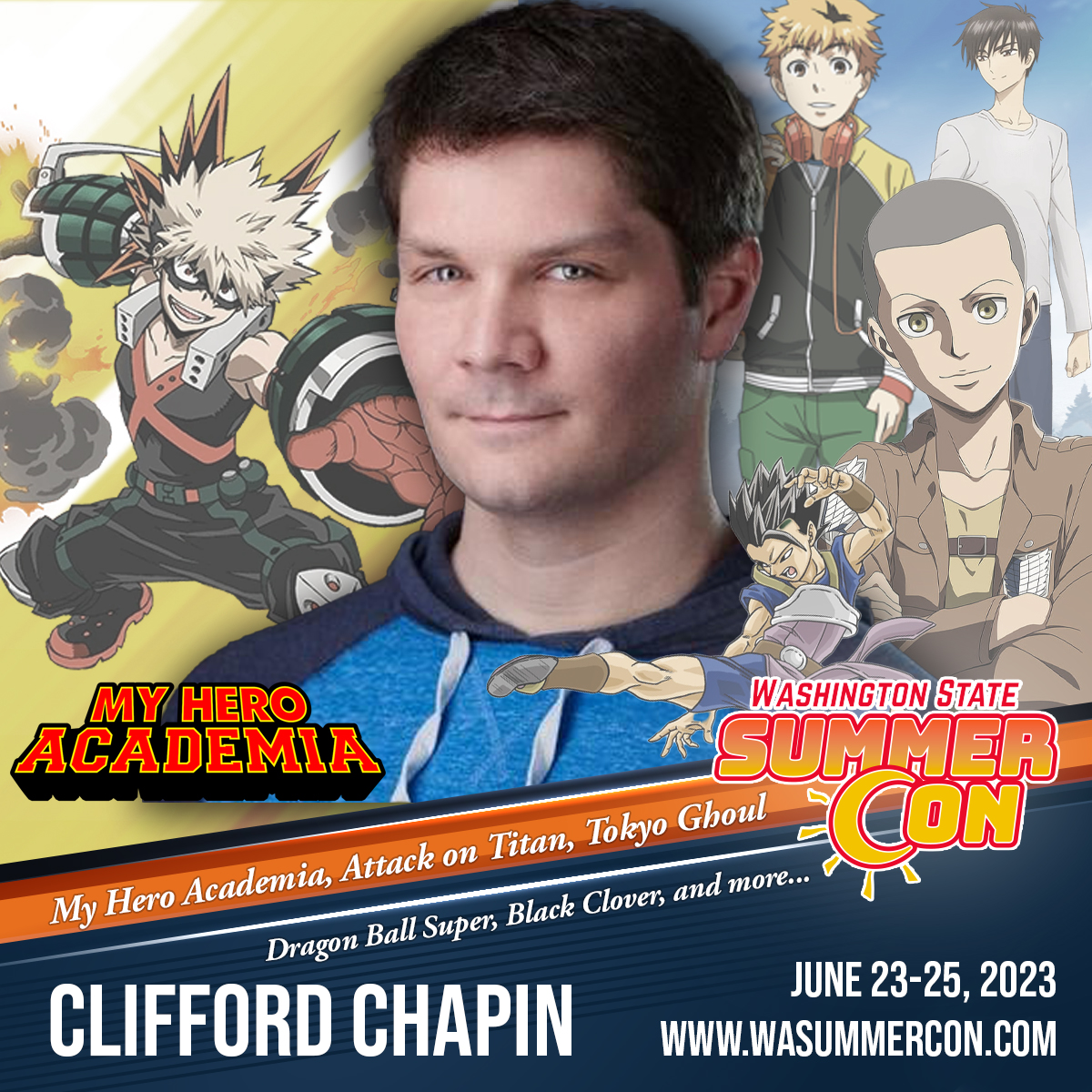 My Hero Academia Cast Photos – $230
(Ballard, Briner, Chapin, Christian, Matranga, Mcguire, Rial)
Standard Autographs – $50
Selfies – TBD
Combo – TBD
(selfies and autograph)
We found a second hero that is Dynamight! Please welcome actor and director Clifford Chapin, who voices Katsuki Bakugo from My Hero Academia, to the Washington State Summer Con on June 22nd through the 25th in Puyallup. Clifford is a fan favorite of some of the most popular anime shows today.
Chapin is known for his role as Katsuki Bakugo from My Hero Academia. He also voiced Ichijo Takayanagi from Red Data Girl, Conny Springer from Attack on Titan​, Shingo Wakamoto from Prison School​, Kukulkan in Smite​, Charles Grey in Black Butler, and Hideyoshi Nagachika from Tokyo Ghoul​. In the Dragon Ball universe, he has voiced the role of Cabba in Dragon Ball Super.
As a director, Clifford has helmed many titles, including Darling in the Franxx, SSSS Gridman, That Time I Got Reincarnated as a Slime, New Game, and Keijo to name a few.
He also voiced characters in several video games, including Fire Emblem Warriors, Genshin Impact, Borderlands 3, and Dragon Ball Xenoverse.
Meet Clifford Chapin all weekend at the Washington State Summer Con. He will be with us signing autographs, taking photos, and meeting his fans. Tickets go on sale on February 23rd.